Tarragon-Rice Stuffed Mushrooms are a great addition to any meal, plus this mushroom dish can be made ahead of time and refrigerated prior to cooking.  These mushrooms are sure to be a hit at your next gathering of family and friends.  I, personally, love mushroom caps stuffed with this delicious rice mixture and baked until golden brown.
I slightly adapted this delicious and easy to make low fat and low calorie mushroom recipe from The Mayo Clinic, Williams-Sonoma Cookbook, by John Phillip Carroll, published by Time/Life Books.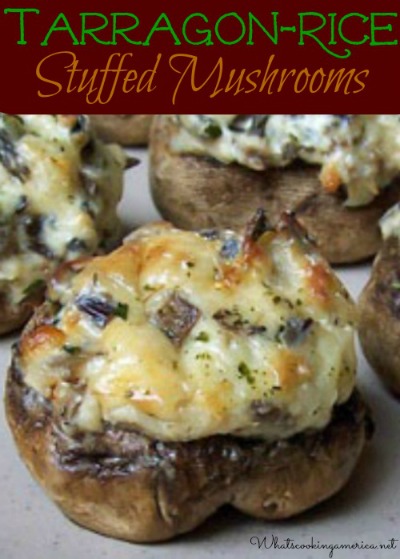 Tarragon-Rice Stuffed Mushrooms Recipe:
Tarragon-Rice Stuffed Mushrooms
Ingredients:
18 large white mushrooms
1/4 cup canned fat-free chicken broth
1 shallot or green onion, minced
1/2 cup cooked, cold long-grain white rice
2 teaspoons light mayonnaise
2 or 3 fresh basil leaves, chopped
2 tablespoons freshly-grated Parmesan Cheese (Parmigiano-Reggiano)
1 teaspoon freshly-chopped fresh tarragon
2 teaspoons extra-virgin olive oil
1/4 teaspoon paprika
Instructions:
Preheat oven to 375 degrees F. Remove the stems from the mushrooms and chop the stems finely.
In a nonstick frying pan over medium-high heat, bring the chicken broth to a boil. Add the shallot and mushrooms stems; cook, stirring occasionally, until the vegetables are tender and most of the liquid has evaporated, about 2 minutes.
In a medium-size bowl, combine the vegetable mixture, rice, mayonnaise, tarragon, and half the parmesan cheese; set aside.
Using a paper towel, wipe out the frying pan and place over medium heat. Add the olive oil and mushroom caps; sauté until coated with oil, 20 to 30 seconds.
Remove from pan and arrange the mushroom caps, stem end up, on a baking sheet. Mound about 2 teaspoons of the prepared vegetable/rice mixture in each mushroom cap. Sprinkle with the remaining Parmesan cheese. NOTE: If made in advance, cover with plastic wrap and refrigerate for up to 8 hours.
Bake until the cheese is lightly browned and the mushrooms are tender but still hold their shape, about 10 minutes. To serve, dust each cap lightly with paprika.
Makes 6 servings (3 each stuffed mushroom caps).
https://whatscookingamerica.net/TarragonMushroom.htm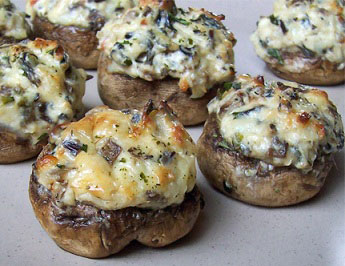 Photo from Rice River Farms of Spooner, Wisconsin.
Comments and Reviews