Baked Delicata Squash with Lime Butter is an easy-to-make recipe and very delicious!  The tangy spicy butter topping of lime juice and chili powder gives just the right hint of spice to complement the mild baked Delicata Squash so perfectly.
Delicata squash is my favorite squash as is one of the tastier winter squashes, with creamy pulp that tastes a bit like corn.  Very delicate taste and so delicious – you can even eat the skins of this squash.  Replace the butter with olive oil to make this a delicious vegan recipe.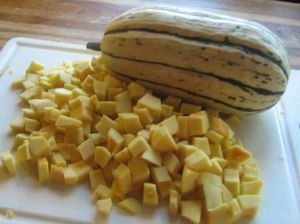 Learn about Squash Hints, Tips, and Information, and more delicious Squash Recipes.
Baked Delicata Squash with Lime Butter Recipe:
Baked Delicata Squash With Lime Butter Recipe
Ingredients:
2 (3/4 pound each) Delicata squash*
2 to 3 tablespoons butter, room temperature or softened (not melted)
1 tablespoon fresh-squeezed lime juice
1/2 to 1 teaspoon chili powder, or to taste
Coarse salt and freshly ground black pepper to taste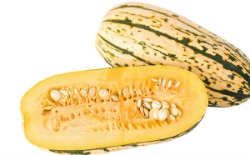 * Delicata Squash is also known as Peanut squash and Bohemian squash. This is one of the tastier winter squashes, with creamy pulp that tastes a bit like corn and sweet potatoes. Size may range from 5 to 10 inches in length. The squash can be baked or steamed. The thin skin is also edible.
Choose squash that have a hard, deep-colored rind free of blemishes or moldy spots. Tender skin indicates immaturity or poor quality as the hard skin protects the flesh and allows it to store longer than summer squash. Store Delicata Squash in a cool, preferably dark, well-ventilated area for up to one month. Photo courtesy of Modern Farmer.
Instructions:
Preheat oven to 350 degrees F.
Cut squash in half lengthwise and remove fibers and seeds; discard.
Place prepared Delicata Squash, cut-side down, in a glass baking dish and add water to the dish to a depth of 1/4 inch.
Bake 30 minutes or until squash is soft but not mushy. Remove from oven.
In a small bowl, combine butter, lime juice, and chili powder; stir until well blended. Season with salt and pepper.
Spoon the butter mixture into baked squash cavities and serve hot.
Makes 4 Servings.
https://whatscookingamerica.net/Vegetables/BakedDelicata.htm
Comments and Reviews