Domain Chandon Cheese Spread is an easy-to-make outstanding recipe.  I first tasted this excellent appetizer at the Domaine Chandon Winery in Napa Valley during a wine tasting.  It was so good that I have often served it at our wine tastings in Newberg, Oregon.  Every time we serve the cheese spread it reminds me of our trip to Napa Valley.
This recipe has also become a go-to cheese spread for many other occasions as well.  It is great for parties and to keep in the refrigerator for an afternoon snack. Preparing this cheese pread is a very quick process.  It goes together fast and will not keep you in the kitchen long.  Everyone I have served this cheese spread to always loves it!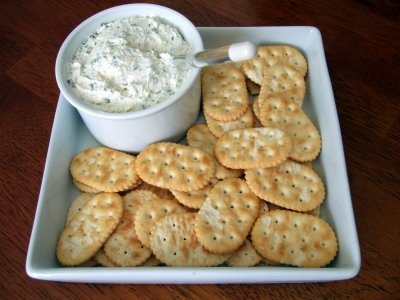 Domain Chandon Cheese Spread Recipe:
Domain Chandon Cheese Spread Recipe
Ingredients:
8 ounces cream cheese, room temperature
2 ounces (1/2 cup) crumbled Blue Cheese, room temperature
1 to 3 tablespoons toasted walnuts, coarsely chopped
1 tablespoon chopped fresh chives
1 tablespoon chopped fresh parsley
Sourdough, French bread, and/or crackers
Instructions:
In a medium-sized bowl, mix together the cream cheese, blue cheese, walnuts, chives, and parsley; do n0t over mix.
Serve with toasted thin-sliced sourdough or French bread.
Serves many.
https://whatscookingamerica.net/Appetizers/CheeseSpread.htm
Source: This Domain Chandon Cheese Spread recipe and photo originally came from the Domain Chandon Winery in Napa Valley.
Comments and Reviews