Goat Cheese and Truffle Oil Crostini recipe is so easy to make and will instantly be a favorite at your next gathering of family and friends.
Women especially love this wonderful Goat Cheese and Truffle Oil Crostini appetizer.  Can you guess why?  It is because of the smell of the truffle oil.  The smell is known to drive women wild!  Truffle Oil is like an aphrodisiac!  One whiff and the seductive smell sends me to heaven!   I have personally taken a poll of my lady friends, and most feel the same way I do.  So, what are you waiting for?
Truffle oil is top-quality olive oil that has been infused with either white or black truffles.  Both types of truffles have an earthy, mushroom flavor.  Truffle oil is a finishing oil not a cooking oil (truffle oil is created when truffles are soaked in olive oil).  Truffle Oil is used to enhance foods by adding to them after preparation.  Give truffle oil a try in is these wonderful Goat Cheese and Truffle Oil Crostin.  It is so gourmet!  Learn more about Truffle Oil.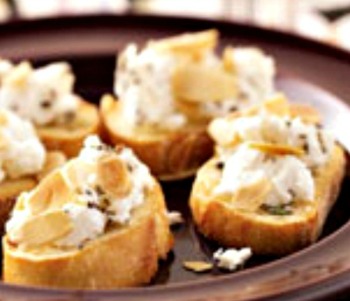 Goat Cheese and Truffle Oil Crostini Recipe:
Goat Cheese and Truffle Oil Crostini Recipe
Ingredients:
1 baguette, cut into 24 slices about 1/4 inch thick
1 medium garlic clove
8 ounces goat cheese
Truffle oil*
Fresh thyme leaves
Freshly ground pepper
* Bottled truffle oil loses aroma over time as it is a truffle extract infusion. This delicate oil loses characteristic aroma quickly, so store in the refrigerator. If you are a truffle fanatic, like me, you will have no trouble using it before the aroma is weakened.
Instructions:
Prepare crostini: Preheat oven to 350 degrees F. Arrange the bread slices on a baking sheet. Brush with olive oil and bake for approximately 6 to 8 minutes. Remove from oven and very lightly rub the toasted bread with the garlic clove. Allow to cool before adding toppings.
When ready to serve, spread each slice of toasted bread with a thin layer of goat cheese. Pour a small amount of truffle oil into a teaspoon and tilt the spoon to sprinkle 3 or 4 drops on each toast. Sprinkle pepper over the top and garnish with a few thyme leaves.
https://whatscookingamerica.net/Appetizers/GoatCheeseTruffleCrostini.htm
Source:  Goat Cheese Crostini photo from Taste of Home
Comments and Reviews