This savory Pistachio Champagne Cheese Spread is delightful and begs to be served on crackers!  It is an appetizer recipe that pairs well with a glass of champagne or your favorite white wine.  You will love the creamy texture of the cheese with its nutty flavor.  I recommend to prepare this Pistachio Champagne Cheese Spread ahead of time and refrigerate overnight until ready to serve.  This allows plenty of time for the flavors to meld together.
Did you know that the pistachio nut, a member of the cashew family, is a small tree originating from Central Asia and the Middle East?  Pistachios nuts may be tiny, but they pack a powerful nutritional punch.  These small nuts contain protein, fiber, and a wealth of vitamins and minerals. So enjoy your vitamins with this delicious cheese spread!
Our foodie friends, Mary Kay DeFalco, and her husband, Vinnie, were kind enough to introduce us to this wonderful appetizer and share the recipe.  Mary and Vinne love to go adventuring and tour the United States with their travel trailer.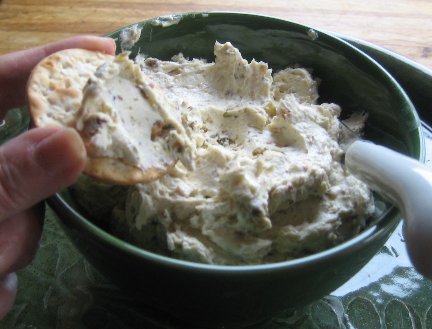 Pistachio Champagne Cheese Spread Recipe:
Pistachio Champagne Cheese Spread Recipe
Ingredients:
3 ounces of top-quality blue cheese*
8 ounces of the best soft cream cheese
1/2 cup firmly shelled pistachios nuts, finely chopped
1/4 cup finely chopped chives
Crackers
* I have also substituted soft goat cheese for the blue cheese for delicious results.
Instructions:
In a medium-sized bowl, add blue cheese; microwave until soft. Remove from microwave and mix in the cream cheese. Add pistachios nuts and chives.
For best flavor, refrigerate at least 8 hours.
When ready to serve, remove from refrigerator and let come to room temperature.
Serve with crackers and champagne.


https://whatscookingamerica.net/Appetizers/PistachioDelight.htm
Comments and Reviews