Rice Meatloaf Recipe is a delightful take-off from the Porcupine Meatballs that were so popular in the 1950s.  The addition of rice makes for a substantial and hearty meatloaf to serve your family.  My husband really likes this tasty and unusual Rice Meatloaf recipe.  Meatloaf is one of the easiest American dishes to make, and everyone has their own favorite way of preparing one.  The best thing about meatloaf preparation is that measured ingredients can be approximated for individual tastes.  My family loves meat loaves, any kind or type seems to be welcomed and enjoyed.  Rice Meatloaf make a great sandwich the next day!
History:  Meatloaf grew in popularity during the Great Depression and through World War II rationing into the 1950s.  Meat-stretching recipes like meatloaf were an obvious choice.  With meatloaf's ability to stretch cheap meat into even more meals by the addition of cheap oats, breadcrumbs, and other starches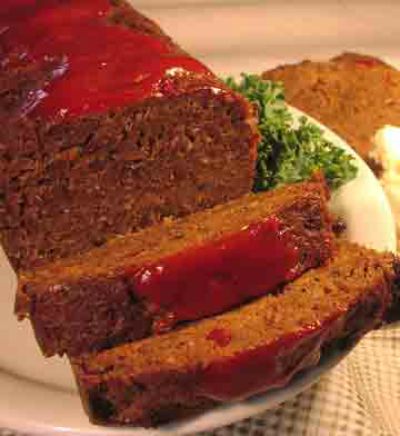 For more great Low Fat Recipes, Low Calorie Recipes, Low Carbohydrate recipes, and Diabetic Recipes, check out my Diet Recipe Index.  Also check out my Nutritional Chart for fat grams, fiber grams, and calories for all your favorite foods.
Ingredients:
1 pound extra-lean ground beef (hamburger)
1/2 cup uncooked white rice (instant or minute rice)
1/4 cup finely-chopped onion
1/4 cup minced red bell pepper
1 clove garlic, minced
1 teaspoon salt or to taste
1 teaspoon freshly-ground pepper
1 tablespoon minced fresh or dried herbs of your choice (such as rosemary, basil, chives, sage, and/or tarragon)
2 teaspoons Worcestershire sauce
1 egg, beaten
1/4 cup tomato ketchup
1/4 cup skim or non-fat milk
1/4 cup dry bread crumbs
Instructions:
Preheat the oven to 350 degrees F. Lightly grease a small loaf pan.
In a large bowl, combine the ground beef, uncooked rice, onion, bell pepper, garlic, salt, pepper, herbs, Worcestershire sauce, egg, ketchup, milk, and bread crumbs. Using your clean hands (removing rings), mix together all the ingredients. Mix thoroughly but lightly, being careful not to pack the meat too much. This meatloaf mixture will be moister than most recipes at this point. The extra liquid is needed for the rice to absorb while cooking.
Place in prepared loaf pan. Bake 30 to 40 minutes or until meatloaf reaches an internal temperature of 160 degrees F. (do not overcook or it will be dry). Remove from oven and let the meatloaf rest for 15 minutes before serving.

This is the type of cooking and meat thermometer that I prefer and use in my cooking. I get many readers asking what cooking/meat thermometer that I prefer and use in my cooking and baking. I, personally, use the Thermapen Thermometer shown in the photo on the right. To learn more about this excellent thermometer and to also purchase one (if you desire), just click on the underlined: Thermapen Thermometer.
Makes 4 servings.
Each Serving Totals - 7.3 Fat Grams, 347.4 calories, 8.6 WW Points
https://whatscookingamerica.net/Beef/RiceMeatloaf.htm
Comments and Reviews