Butternut Squash and Bacon Pasta Recipe immediately attracted my attention when I first came upon it.  This recipe did not let me down as it is easy to make and very delicious – the leftovers were equally delicious!  The combination of roasted butternut squash and bacon are my new favorite flavor combination.  It is an impressive comfort food casserole dish – Give it a try.
This dish was a hit with my family.  Also makes a great buffet dish to take to a potluck or just for a casual get together with your friends.  This is a great way to use  squash, especially for little kids and picky eaters.
I slightly adapted this Butternut Squash and Bacon Pasta recipe by Karen Levin which was published in the Cooking Light Magazine, March 2004.  Photo by Becky Luigard-Stayner and Jan Gautro.
Learn about Squash Hints, Tips, and Information, and more delicious Squash Recipes.  Also check out Pasta Hints and Tips and more delicious Pasta Recipes.
Roasted Butternut Squash and Bacon Pasta Recipe:
Keyword:
Roasted Butternut Squash and Bacon Pasta Recipe
Ingredients
3/4

teaspoon

coarse salt,

divided

1/2

teaspoon

rosemary,

dried

1/4

teaspoon

black pepper,

freshly ground

3

cups

butternut squash,

peeled, seeded and cut into 1-inch cubes*

8

ounces

mini-penna

pasta, uncooked**

6

hickory-smoked bacon

slices

1

cup

onions

or shallots, thinly sliced

1/4

cup all-purpose

flour

2

cups

milk

1

cup

Parmesan Cheese

(Parmigiano-Reggiano), freshly grounded and divided
Instructions
Preheat oven to 425 degrees F. Line a rimmed baking sheet with aluminum foil and spray with cooking spray. Lightly coat an 11 x 7-inch baking dish.

In a small bowl, combine 1/4 teaspoon salt, rosemary, and pepper.

Place squash cubes on the prepared baking sheet. Sprinkle with prepared salt mixture and bake for approximately 45 minutes or until the squash is tender and lightly browned; remove from oven and set aside.

Increase oven temperature to 450 degrees F.

In a large non-stick frying pan over medium heat, cook the bacon slices until crisp; remove cooked bacon from the pan and crumble cooked bacon and set aside. Reserve 1 1/2 teaspoons bacon drippings in the frying pan.

Increase heat to medium-high. Add shallots or onions and saute for approximately 8 minutes or until tender. Remove from heat and add squash mixture, crumbled bacon, and shallot or onions; set aside.

In a large pan or pot, combine flour and 1/2 teaspoon salt. Gradually add the milk, stirring constantly with a whisk and bring to a boil and let cook until slightly thick, approximately 1 minute. Remove from heat and add 3/4 cup grated parmesan cheese, stirring until cheese melts. Add cooked pasta, tossing well to combine.

Spoon pasta mixture into the prepared baking dish. Top with the squash mixture. Sprinkle the remaining 1/4 cup grated Parmesan cheese evenly over the top. Bake approximately 10 minutes or until cheese melts and just begins to brown. Remove from oven and serve.
Recipe Notes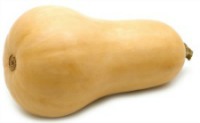 * Butternut squash can be easily found in all supermarkets. Beige colored and shaped like a vase or a bell.  This is a more watery squash and tastes somewhat similar to sweet potatoes. It has a bulbous end and pale, creamy skin, with a choice, fine-textured, deep-orange flesh with a sweet, nutty flavor. Butternut squash can weigh from 2 to 5 pounds. The oranger the color, the riper, drier, and sweeter the squash.
** You may substitute elbow macaroni, shell pasta, etc. (your choice).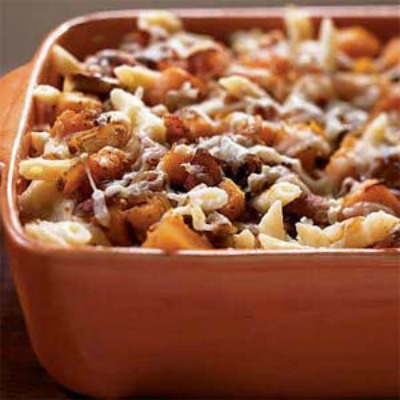 Comments and Reviews