A very delicious and low-fat and low-calorie Mocha Shake that will fit into your diet!  
This shake will definitely please your palate.  Shakes may seem like a child's drink, but once you taste this milk shake, you will feel like a child again, but the low calories will make your feel even better knowing how wonderful this shake is for your body.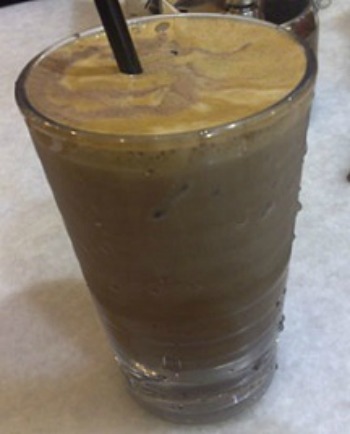 For more great Low Fat Recipes, Low Calorie Recipes, Low Carbohydrate recipes, and Diabetic Recipes, check out my Diet Recipe Index.  Also check out my Nutritional Chart for fat grams, fiber grams, and calories for all your favorite foods.
Mocha Shake Recipe:
Ingredients:
1 teaspoon ground regular or decaffeinated coffee
1 tablespoons unsweetened cocoa1/4 cup hot water
1 teaspoon Splenda*
1 cup skim milk
4 ice cubes
* Splenda is the trade name or the dietary sweetener sucralose. This non-calorie sweetener is derived from sugar.
Instructions:
Dissolve coffee and cocoa in the hot water
Place coffee/cocoa mixture, Splenda, milk, and ice cubes in a blender. Blend thoroughly until combined and frothy.
Makes 1 serving.

Per Serving - 1.4 fat grams, 105 calories, 3.6 WW points
https://whatscookingamerica.net/Beverage/MochaShake.htm
Comments and Reviews