Brunswick Stew Recipe and History
Cooking Brunswick Stew has become a time-honored tradition, a source of regional pride, and a true culinary art in the Southern States.  It is almost as popular as barbecuing is in the Southern states.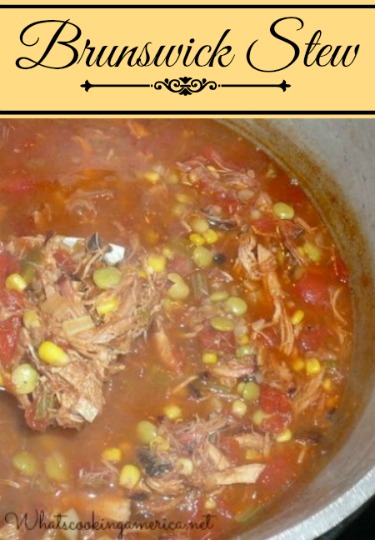 "Brunswick Stew is what happens when small mammals carrying ears of corn fall into barbeque pits."
– by Humorist Roy Blount Jr.
 "The stew is not done until the paddle can stand up in the middle!"
– by Brunswick Stewmasters Association.
Brunswick stew is traditional fall stew in the Southern United States.  It is considered survival cuisine or hunters stew among earlier settlers in the Southern Appalachians.  Fresh game and any local ingredients they have on hand were adapted to use in this stew.  Typically, this is a thick tomato-based stew containing vegetables such as potatoes, tomatoes, lima beans/butter beans, corn, and okra.  The meat added is also a varied selection of meats.  It is similar to a vegetable soup but thicker in consistency.  Authentic Brunswick stew claims to use game meat such a squirrel, opossum, or rabbit meat and simmers all day to allow the tougher meats to tenderize.
Now days, people prefer to cook their Brunswick stew with chicken, pork, beef, or rabbit and add some bacon or hog jowls for extra seasoning.  It is a complete meal in one dish.  It is not uncommon to see huge cast-iron pots holding 95 gallons of this delicious Brunswick Stew, bubbling away at family reunions and church suppers.
Different Southern states add their own distinct flavors.  In Virginia, they favor chicken as their primary meat with some rabbit.  While the Georgia version typically uses a mixture of pork and beef with hotter spices and often accompanies barbecue.  In North Carolina, you may find that they like to throw some pulled pork into the pot.  The Kentucky version of this stew is known as Burgoo.  The secret flavors of the stew are hard to pin point and get agreement on between stew cooks in each state.  While the vegetables, seasonings, and meat may vary, all Southern cooks agree that the stew must resemble a thick paste-like consistency.
History of Brunswick Stew:
It is believed that the Southeastern Indians first started making stew from squirrels, ground hogs, and hominy.  They would also boil game meat such as bear and deer with fresh corn and squash.  It was common for African-American slaves to adapt some of the cooking techniques of Native American Indians.
Brunswick, Virginia claims to be the originating location for the first official Brunswick stew.  Every year, the friendly rivalry between Virginia and Georgia stews is celebrated at the annual Brunswick County's Taste of Brunswick Festival.  They host a Brunswick stew cook-off contest where some twenty or so contestants vie for the title of Brunswick County Stewmaster.  Sales of the various stews benefit charities chosen by the Stewmasters
Stewmasters:  The cooks in this contest are known as Stewmasters.  One must become an apprentice first to learn the proper cooking techniques for this stew and how to work with the ingredients you have on hand.  When the apprentice has mastered the stew preparation, which usually takes about 12 months, they can move up to the status of Stewmaster.  The Virginia Stewmasters have been cooking Brunswick stew at local festivals and national events such as the Smithsonian Folklore Festival.
"Stew master" is a fairly nebulous title, bestowed on those who have proved over the years, through experience and tasty stew that they can cook.  There is nothing official about it, other than maybe the acknowledgment of peers.  When you are fool enough to handle it and people will buy your stew," joked Clary, "you can call yourself a stew master." – By John D. Clary, President Brunswick Stewmasters Association (2/15/10)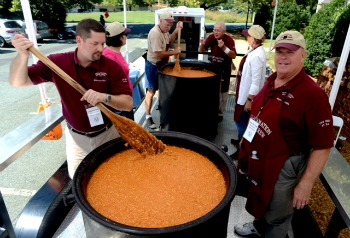 The Proclamation Stew Crew stirs two pots of Brunswick Stew.  Hundreds attended the Virginia Folklife Program's apprentice showcase held at the Virginia Foundation for the Humanities campus in Charlottesville on Sunday Sept. 15, 2013.  Photo by Pat Jarrett/The Virginia Folklife Program
Brunswick stew is now considered a social stew similar to Chicken Booyah where it is cooked outside in a large cast iron pot over an open fire and typically sold to large crowds at fundraising events for churches, political rallies and family gatherings.
The stew wars between Brunswick County Virginia and the city of Brunswick, Georgia used to stir up much debate over the originator of the Brunswick stew.  Most likely because of the similarity in names each county strongly felt they were the originator of the stew.  In more recent years these stew wars have generated good publicity with cook-offs that have boosted the economies for both areas.  In Georgia, the stew cooks refer to themselves as "Stew Dogs" versus the Virginia "Stewmasters".  Brunswick, Georgia finally gave the claim to Brunswick County Virginia as the originator and Georgians still happily enjoy the stew with great enthusiasm.
1828 – In Brunswick, Virginia, Dr. Creed Haskins, a member of the House of Delegates from 1839-1841, took a group of friends on a hunting expedition on the banks of the Nottaway River.  While off hunting, his slave and camp cook, known as Uncle Jimmy Matthews, resourcefully rounded up some squirrel and cooked it up into a thick soup with onions and stale bread.  Upon return, the cold and starving hunters were hesitant to try the stew with squirrel meat, but their hunger won out.  They liked the thick warm stew so much that they asked for seconds and thirds!  This concoction was known as the first Brunswick Stew.  It is rumored that Jimmy Matthews was asked to recreate his stew cooked in a large pot for a political rally for President Andrew Jackson.
1862 – First published recipe for "Virginia Stew" in the Southern Recorder of Milledgaville, Georgia
1898 – Brunswick, Georgia also tried to lay claim as the originator of the Brunswick stew and displayed a 25-gallon cast iron pot with a plaque declaring it the original cooking vessel of the Brunswick stew on St. Simon Isle.
1988 – Virginia General Assembly proclaimed Brunswick County, Virginia as the originator of the Brunswick Stew on February 22, 1988. A crew of Stewmasters were brought out to prepare the Brunswick stew at the State Capital for this special event. They called themselves the "Proclamation Stew Crew".
Sources:
Wikipedia – Brunswick Stew.
Bob Garner's Guide to North Carolina Barbecue, By Bob Garner, page 35.
Brunswick Stewmasters Association.
New Georgia Encyclopedia, Arts & Culture – Food and Foodways – Brunswick Stew by John A. Burrison, 04/06/2005.
The Oxford Companion to American Food and Drink – Brunswick Stew, by Mark H. Zanger, page 52.
Brunswick Stew Recipe:
Keyword:
Brunswick Stew Recipe, Brustwick Stew History
Ingredients
1

(4-pound)

baking chicken,

cut into pieces

Chicken stock

or water

4

pounds

ground pork

2

cups

onions,

chopped, divided

2

cloves

garlic,

finely chopped and divided

1

tablespoon

chili powder

1

tablespoon

thyme,

dried

1

tablespoons

cayenne pepper

Coarse salt

and black pepper

1

(10-ounce) package

lima beans,

frozen (optional)

36

ounces

tomato juice

or 1 (38-ounce) can whole peeled tomatoes

4

ounce

tomato catsup

3

cups

corn

kernels (fresh or frozen)

1

teaspoon

Tabasco sauce

or to taste

1

cup

red wine,

preferably Rhone style
Instructions
In a large pot over medium heat, simmer the chicken pieces in the water or chicken broth approximately 40 to 60 minutes or until very tender; remove from heat and let cool.

Once chicken is cool, de-bone and finely chop the meat and set aside.

Meanwhile, in a large heavy pot or Dutch Oven over medium heat, cook the ground pork until 1/2 done. Add 1 cup chopped onions, garlic, chili powder, thyme, cayenne pepper, and a generous sprinkling of salt and black pepper. Continue to cook until the meat is well browned, stirring every few minutes to break up any lumps. Add the finely chopped chicken and stir to combine

Add the lima beans, tomato juice or chopped tomatoes, catsup, corn kernels, Tabasco Sauce, and red wine; let simmer for 90 minutes. Add the remaining 1 cup chopped onions and remaining chopped garlic; let simmer for another 30 minutes. Taste for salt (adjust if needed).

Remove off the fat (and discard) before serving.
Comments and Reviews