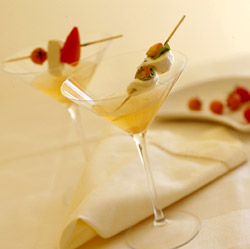 Mozzarella Tomato Martini is outstanding!
  This is a savory martini made from tomato water, a clear liquid with a delicate, acidic flavor that is produced when tomatoes are strained of their juices.  This martini's flavor depends completely on the ripe tomatoes.  So make this martini only if you have in-season, ripe tomatoes.  As the tomatoes release their juice, it gives you an almost gin-clear liquid with lots of flavor.  Spike the martinis, if you like, with a splash of pepper vodka or grappa.  It does take a little time to make this martini, but it is well worth the effort.  The Mozzarella Tomato Martini is absolutely beautiful to look at, as well as refreshing!
Mozzarella Tomato Martini Recipe:
Mozzarella Tomato Martini Recipe
Ingredients:
3 to 4 pounds vine-ripened tomatoes plus 1/2 tomato, cut into 4 wedges*
Sea salt and freshly-ground pepper
4 fresh mozzarella cheese bocconcini, each 1 inch in diameter
4 cherry tomatoes
About 1 1/2 teaspoons basil-flavored olive oil (optional)
8 large fresh basil leaves, cut into very fine chiffonade
* It is impossible to give a specific amount for the tomatoes because how much "water" a tomato releases depends on many factors, including the growing season and the variety. You will need enough tomato water to fill your martini glasses, so measure their capacity, probably something between 5 and 9 ounces each.
Instructions:
Chill Martini Glasses in the freezer or refrigerate an hour ahead of serving. NOTE: For the most stunning presentation, make sure the glasses are heavily frosted (a freezer gives a heavy frost).
Peel, seed, and chop the tomatoes. Season lightly with salt and pepper; place in a sieve suspended over a bowl and refrigerate for several hours. As the tomatoes release their juice, it will fall into the bowl, giving you an almost gin-clear liquid with lots of flavor. If the tomato water is not clear, pour it through a fine mesh strainer. Season the tomato water to taste with salt and pepper and refrigerate until very cold. Reserve the tomato pulp for another use.
Halve or quarter the fresh mozzarella bocconcini if they are larger than 1 inch in diameter. Thread a tomato wedge, a bocconcini piece, and a cherry tomato onto each of 4 wooden skewers 4 to 5 inches long. Season with salt and pepper and drizzle with basil oil, if desired.
Working quickly, divide the tomato liquid among the chilled martini glasses. Balance the skewers on top of the glasses, then sprinkle the basil chiffonade over the skewers. Serve immediately.
To make an alcohol drink: Into the chilled martini glasses, measure 2 parts tomato water to 1 part chilled vodka.
Makes 4 servings.
https://whatscookingamerica.net/Beverage/TomatoMartini.htm
Source:  This recipe and photo are from the Tra Vigne Cookbook by Michael Chiarello.
Comments and Reviews