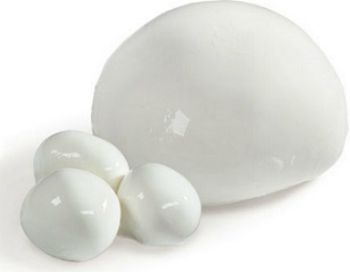 Wonderful Fresh Mozzarella Cheese!  Mozzarella cheese was originally made from water-buffalo milk in Italy and is called "mozzarella di bufala".  Most fresh mozzarella now comes from cow's milk, both in Italy and here in North America.  In Italian, fresh mozzarella cheese made from cow's milk is called "Fiore di Latte."
If a recipe specifies Fresh Mozzarella Cheese, please only use Fresh Mozzarella Cheese – You will be sorry if you do not use it!
Most people are not able to purchase Fresh Mozzarella Cheese that is made that very day of purchase.  If you can, you are very lucky and will have the most wonderful taste experience.  If you have not tried fresh Mozzarella, you are missing out on the one of the creamiest textures in the cheese world.  It is a delicious way to enjoy a low-fat, high protein snack.  Did you know that fresh mozzarella cheese has 87 calories per ounce?
Storing Fresh Mozzarella Cheese – Cheese purchased at your local food store or online:
Fresh Mozzarella Cheese is the most flavorful when served at room temperature.  It is best to only purchase the amount of fresh mozzarella cheese needed. Always check the product dating and buy the freshest mozzarella cheese you can find.  The product date shown on the container, is the date the cheese was made.  Ideally, mozzarella should be eaten the day it is purchased.
Usually fresh mozzarella cheese can be found at your local store in a container of water (which is actually whey from making the cheese).  Keep fresh mozzarella cheese in its liquid bath and refrigerate until ready to eat and eat it within 2 to 3 days.
Sometimes the mozzarella cheese is vacuum packed.  If your fresh Mozzarella does not come in a tub of liquid, store it in the refrigerator in fresh water and use within 2 to 3 days at the most.  The best way to keep mozzarella fresh is to store it in the refrigerator in a container of cold water.  Change the water daily.
Store mozzarella cheese in the refrigerator at a temperature between 34 degrees F. and 40 degrees F.  Remove from the refrigerator at least 1 hour before you plan to serve it.  Freezing is not recommended.
Check out this wonderful photo tutorial article on Storing Fresh Mozzarella Cheese, by Sandra Vogt from her very informative web pages on Cheese Making.
Check out this informative scientific article by the Journal of Food Science:  Proteolysis and Functional Properties of Mozzarella Cheese as Affected by Refrigerated Storage.
---
Favorite Recipes Using Fresh Mozzarella Cheese:
Comments and Reviews