New Orleans Bread Pudding with Bourbon Sauce is a popular dessert served during Mardi Gras.  Bread Puddings tastes so decadent and is positive proof that leftover bread does have a purpose and can have a second chance.  You can learn how to make this delicious classic recipe to help celebrate Mardi Gras wherever you live.  Also makes a great holiday dessert to serve at Christmas time.
The bourbon sauce is loaded with bourbon and probably not kid-friendly, but an adult only treat.  The bourbon sauce tastes strong right out of the pan,  but mellows when pored over the bread pudding.
This New Orleans Bread Pudding recipe is from my first cookbook called What's Cooking America.  This wonderful bread pudding always brings back memories of my visits to New Orleans.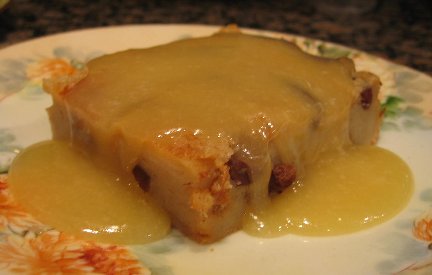 New Orleans Bread Pudding with Bourbon Sauce Recipe:
New Orleans Bread Pudding with Bourbon Sauce Recipe
Ingredients:
1 large loaf French bread (approximately 14 to 16 ounces)
4 cups milk
3 eggs lightly beaten
2 cups granulated sugar
2 tablespoons pure vanilla extract
1/4 teaspoon allspice
1/4 to 1/2 teaspoon ground cinnamon
1 cup raisins
3 tablespoons butter, melted
Bourbon Sauce (see recipe below)
Instructions:
Tear or cut French bread into 1-inch pieces (about 6 to 7 cups); place in a large bowl. Add milk and let bread pieces soak; crush with your hands until well mixed.
In another bowl, whisk together eggs, sugar, vanilla extract, allspice, and cinnamon until smooth; stir in raisins. Stir into the bread/milk mixture. Let the mixture sit for 2 hours, stirring occasionally.
Preheat oven to 350 degrees F.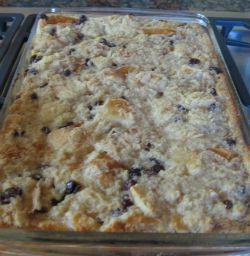 When ready to bake, pour melted butter into a 13x9-inch baking pan or dish. Coat the bottom and the sides of the pan well with the butter.
Pour bread pudding mixture into prepared pan or dish. Bake, uncovered, approximately 45 to 50 minutes, until set in the center, and the edges start getting a bit brown and pull away from the edge of the pan. Remove from oven and let cool on a wire rack.
To serve, cut into squares and put into individual serving dishes.
Serve with warm Bourbon Sauce. NOTE: Best fresh and eaten the day it is made.
Makes 8 to 10 servings.
Bourbon Sauce Recipe:
1/2 cup butter
1 cup granulated sugar
1 egg, lightly beaten
2 tablespoons bourbon (whiskey) or to your taste
In a medium-size saucepan over low heat, melt butter; add sugar and beaten egg, whisking to blend well. Cook, stirring constantly, until mixture thickens.
Remove from heat and whisk in bourbon to taste; let cool.
Whisk and reheat before serving. The sauce should be soft, creamy, and smooth.
https://whatscookingamerica.net/BreadPudding.htm
Comments and Reviews