Almond Roca Candy recipe was slightly adapted from the classic 1950's Betty Crocker recipe.  Why mess with a good thing?  
Homemade Almond Roca Candy is my daughter's favorite candy recipe to make at Christmas time.  You will not believe just how easy this candy is to make at home and how close it tastes to the real deal.  This candy is jam-packed with incredible flavor and texture.  So delicious that it is hard to stop eating.  If you have never tried Almond Roca Candy, I definitely encourage you to as this recipe is very simple, even if you have never made candy before.
My daughter discovered that the older Betty Crocker cook books call for brown sugar, while the newer editions switched to white sugar.  We are not sure why the change of sugar type was made, but I did a comparison test with my daughter and we determined that brown sugar has a better flavor in the toffee instead of white sugar.  It was a bit softer and melts in your mouth instead of sticking to your teeth.
Not many ingredients are needed for this fantastic recipe – you just need to make sure you cook the toffee to the right temperature on the candy thermometer.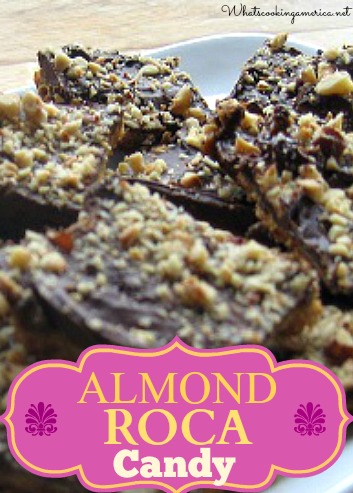 Almond Roca Candy – Almond Toffee Recipe:
Homemade Almond Roca Candy Recipe
Ingredients:
1 cup salted or unsalted butter*
1 cup firmly-packed brown sugar
1/4 cup water
1 1/2 cup semi-sweet chocolate chips**
1/2 to 3/4 cup toasted almonds, finely chopped***
* If using unsalted butter, add 1/8 teaspoon salt.
** Use a good-quality chocolate chips for best flavor.
*** Can substitute favorite nuts of your choice.
Instructions:
Line a 13- x 10-inch rimmed cookie sheet (with low sides) with aluminum foil, leaving a slight overhang.
In a heavy saucepan over medium heat, clip the candy thermometer to side of pan (if using). Melt the butter with the brown sugar and water; bring the mixture to boiling. Stirring constantly, cook until the candy or digital thermometer reads 300 degrees F. This is known as the hard crack stage (about 13 minutes). To test toffee candy for doneness, drop small amount of candy into cup of very cold water, the candy should separate into hard brittle threads. Watch candy carefully while cooking to make sure it does not burn.

This is the type of cooking thermometer that I prefer and use in my cooking. I get many readers asking what cooking thermometer that I prefer and use in my cooking, baking, and candy making. I, personally, use the Thermapen Thermometer shown in the photo on the right. Originally designed for professional users, the Super-Fast Thermapen Thermometer is used by chefs all over the world.



Immediately pour the hot toffee candy mixture onto the prepared aluminum foil-lined cookie sheet; spreading evenly and completely over the sheet to about 1/4 inch thickness.
Sprinkle the top of the hot toffee candy with chocolate chips and let sit for a couple minutes until chocolate is melted. Using a spatula spread chocolate evenly to cover all of the toffee candy. Sprinkle the chopped almonds evenly over the top of the chocolate.
Let stand at room temperature for about an hour or refrigerate until cooled down and hardened. When cool, break or cut the toffee into pieces.

Serve immediately or store in air-tight container.
https://whatscookingamerica.net/Candy/AlmondToffee-AlmondRoca.htm
Comments and Reviews