Baked applesauce is about the easiest and best tasting that you have ever made and tasted.  If you have never made applesauce using this baking technique, you must give it a try.  So much richer in flavor.  Baking the apples locks in their delicious flavor!  No more mess of cooking your applesauce on the stove top and stirring and stirring.  Just cut, season, and bake – what could be easier?
Photo and recipe by Ellen Easton 2020 – All Rights Reserved.  Check out more of Ellen Easton's Tea Travels™  articles and recipes.
Learn about the History of English High Tea and more delicious Afternoon Tea Recipes.
Baked Apple Sauce Recipe:
Keyword:
Baked Apple Sauce Recipe
Instructions
Preheat oven to 350 degrees F.

In a bowl, mix together the cinnamon, nutmeg, vanilla extract, lemon juice, and honey; set aside.

In a large re-sealable plastic bag, place the apple quarters. Add the spice/honey mixture, reseal the bag, and shake to thoroughly coat the apples. Note: To enhance the flavor, you may marinate for several hours in the refrigerator or you may proceed "as is."

Place the coated apple quarters on a baking pan or cookie sheet.

Bake for approximately 30 to 40 minutes or until tender.The tip of a knife should easily pierce the apple slice. When done, remove the apples from the oven and place in a bowl.

Using a potato masher or pronged fork, gently mash the apples to desired texture of either a chunky or a smooth sauce (your choice).

If desired, add the optional roasted walnuts and raisins. See below on how to roast walnuts.

Makes approximately 2 cups.

Place whole or half natural raw walnuts on a cookie sheet and roast for approximately 5 minutes or until lightly toasted. Remove from oven and allow to cool. When the walnuts are cool enough to handle, place on a sheet of wax paper. Using a mallet or the side of a can, roll over walnuts to crush them into small pieces; set aside.
---
TEA TRAVELS™ – Wishing You Happy TEA TRAVELS!™  Tea is the luxury everyone can afford!™ and Good $ense for $uccess are the trademarked property of Ellen Easton/ RED WAGON PRESS
Ellen Easton, author of Afternoon Tea~Tips, Terms and Traditions (RED WAGON PRESS), a lifestyle and etiquette industry leader, keynote speaker and product spokesperson, is a hospitality, design, and retail consultant whose clients have included The Waldorf=Astoria, Plaza Hotels, and Bergdorf Goodman.  Easton's family traces their tea roots to the early 1800s, when ancestors first introduced tea plants from India and China to the Colony of Ceylon, thus building one of the largest and best cultivated tea estates on the island.

Purchase Ellen Easton's Tea Books:
Each 5 x 7 book is $20 postpaid Continental USA only.  Wholesale and fundraising accounts welcome.  Include name, address, zip code, and phone number for shipping.  All Sales Final. Check or MO order payable to:  RED WAGON PRESS, 45 East 89th Street, STE. 20A, New York, NY 10128-1256.  All inquires to teatravels@aol.com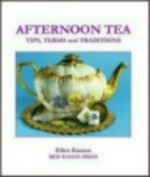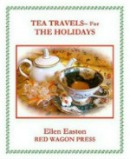 AFTERNOON TEA…TIPS, TERMS and TRADITIONS
72 pages of how to's, 27 photos, history, etiquette and FAQ about afternoon tea, serving styles and more.
TEA TRAVELS™ – FOR THE HOLIDAYS
64 pages, 21 color photos. A complete holiday menu includes 25 easy to prepare recipes; theme teas, decorating & gift ideas; invitation template and secret sources.
Comments and Reviews