Categories:
Baking
Fruit Pies & Tarts
Lemons
Oranges
Chef's Favorite Lemon Tart is a somewhat sophisticated take on the Southern-style lemon chess pie.  This simple lemon tart really is one of Ben's favorite desserts and has been a standard in Karen's repertoire for close to 20 years.  The chefs say, "We most often serve this with a mixture of seasonal berries and lightly whipped cream.  You can substitute a simple raspberry sauce made from frozen raspberries if it is not fresh berry season."
This recipe is from the cookbook Not Afraid of Flavor: Recipes from the Magnolia Grill by chefs Ben and Karen Barker.  Photo by Ann Hawthorne.
Check out more great Pie Recipes.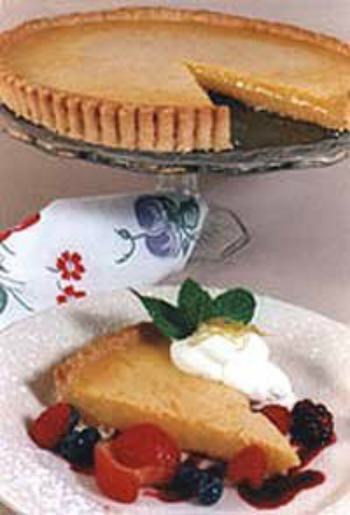 Chef's Favorite Lemon Tart Recipe:
Chef's Favorite Lemon Tart Recipe
Ingredients:
Tart Shells (see recipe below)
4 eggs
1 1/2 cups granulated sugar
1/2 cup fresh-squeezed orange juice
1/2 cup fresh-squeezed lemon juice
Zest of 1 lemon, grated
Zest of 1 orange, grated
1/4 cup heavy cream
Fresh berries (or berry sauce)
Whipped cream
Instructions:
In a food processor, pulse together the flour, sugar, and salt. Add the butter and pulse until the mixture resembles coarse meal. Add the egg yolk mixture and pulse just until the dough can be gathered into a ball. Flatten into a 6-inch disc, wrap in plastic, and chill several hours or overnight. Let the dough soften slightly at room temperature before rolling.
Preheat oven to 350 degrees F.
On a lightly floured surface, roll the dough into a 13-inch round. Fit the dough into a 10 1/2 inch tart pan with a removable bottom. Trim the dough flush with the rim and freeze the tart shell until firm.
Line the shell with foil or parchment, and fill with pie weights, rice, or dried beans. Bake for 20 minutes until set. Remove the foil and weights and bake an additional 10 to 15 minutes until lightly golden. Remove the shell from the oven and immediately brush the hot pastry with the egg white. Set aside until ready to fill with the filling.
Hint: When rolling tart pastry, always save all the dough scraps in case you need them to repair a crack in a partially baked shell. If the pastry "bubbles up" during the baking process, gently prick the pastry with a fork to release air bubbles. Check several times and repeat if necessary. The egg white serves to seal the pastry, which is especially helpful with a liquid filling such as this. It is essential that there be no cracks or holes visible in the partially baked shell. Make any necessary repairs prior to filling.

https://whatscookingamerica.net/ChefsLemonTart.htm
Comments and Reviews