Orange Date Nut Bars are a very chewy and delicious old-fashioned date bar cookies with a wonderful orange flavor topped with a light lemon glaze.  They are fairly east to prepare.  Date lovers adore these cookies!  These Orange Date Nut Bars make a great Christmas cookie.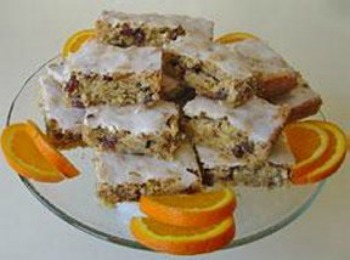 Orange Date Nut Bars Recipe:
Orange Date Nut Bars Recipe
Ingredients:
1 cup butter, room temperature
1 cup granulated sugar
2 eggs
2 tablespoons grated orange zest (peel)
1/2 teaspoon pure vanilla extract
1 cup all-purpose flour
1/2 teaspoon baking powder
1/8 teaspoon salt
2 cups chopped dates, chopped with an oiled knife
2 cups chopped walnuts
Lemon Glaze (see recipe below)
Instructions:
Preheat oven to 350 degrees F. Heavily butter a 9- x 13-inch baking pan.
In a large mixing bowl, beat together butter and sugar until well blended. Beat in eggs, orange zest, and vanilla extract. Beat in flour and baking powder until well blended. Stir in chopped dates and chopped walnuts. Batter will be very thick at this point.
Spread mixture onto bottom of prepared baking dish. Bake for approximately 25 to 30 minutes or until the top is golden brown. Remove from oven and let cool on a wire cooling rack.
When cool, spread Lemon Glaze over the top. Cut either into bars or squares.
Makes about 48 bars.
Lemon Glaze:
2 tablespoons fresh-squeezed lemon juice
1 1/4 cup sifted powdered (confectioner's) sugar
In a medium-size bowl, mix the lemon juice and confectioner's sugar together so that it is of spreading consistency. Spread the glaze on the uncut cooled cookies.
https://whatscookingamerica.net/Cookie/OrangeDateCookies.htm
More Delicious Date Cookies:
Date Pinwheel Cookies – Date Swirl Cookies
My mother made this cookies every Christmas season when I was young.  I have always loved these cookies!
Date Nut Bars
We used to sneak these treats off the tray when we were kids.  Well, at least we thought we were sneaking them, but my Mother probably knew all along.
Date Squares – Matrimonial Bars
Attention date lovers!  You will absolutely love these date squares – I do!
Oatmeal Date Squares
This recipe is an old family recipe.  It is delicious and one of my favorite bars.
Comments and Reviews