Learn how to make Pecan Tassie Cookies with this easy recipe
Pecan Tassies are a favorite Southern cookie – especially during the Christmas season. It is thought that Pecan Tassies are an adaptation of the French-American recipe for Pecan Pie. Pecan Pie is most commonly thought to have originated in New Orleans, by French settlers sometime in the early 1700s.
You will find these tassies very addictive! Tassies are little tarts or mini pies, or actually miniature pecan pies. They are the cookie version of the Southern Pecan Pie.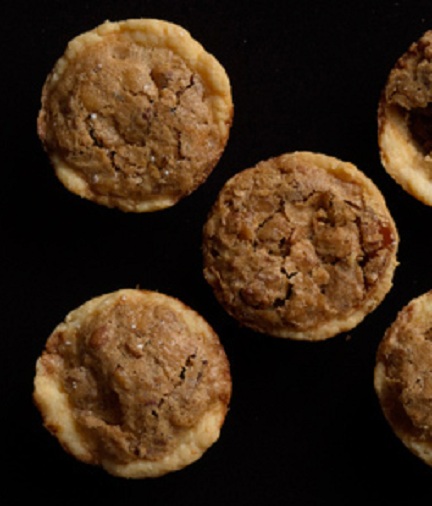 More favorite Cookie Recipes and Secrets To Making Perfect Cookies. Also learn How To Have A Successful Holiday Cookie Exchange or Cookie Swap.
Pecan Tassie Cookies Recipe:
Pecan Tassie Cookies Recipe
Ingredients:
Tassie Dough (see recipe below)
Egg Filling (see recipe below)
1 cup chopped pecans, divided
Instructions:
Prepare Tassie Dough. Roll into small balls (approximately 24 one-inch balls) and press into the bottoms and sides of ungreased 1-1/2-inch tart pans or mini-muffin pans to make a shallow shell. Use floured fingers to press dough evenly against bottom and up sides of each muffin cup.
Sprinkle 1/2 cup chopped pecans on top of dough in muffin or tart tins; set aside.
Prepare Egg Filling. Use a spoon to fill each of the dough cups 2/3 full with the Egg Filling mixture. Sprinkle the tops with the remaining 1/2 chopped pecans.
Preheat oven to 325 degrees F.
Bake approximately 20 to 25 minutes or until pastry is golden and filling is puffed.
Remove from oven and let cool slightly in the pan, then remove the cooked Pecan Tassies and let cool completely on a wire cooling rack.
https://whatscookingamerica.net/Cookie/PecanTassie.htm
Tassie Dough:
1 cup butter or margarine, softened
6 ounces cream cheese, softened
2 cups all-purpose flour, sift before measuring
In a medium bowl, mix together the butter and cream cheese until well blended. Beat in flour, 1 cup at a time, until the mixture is blended and will form a smooth dough. Refrigerate at least 1 hour.
NOTE: Mixture may be made ahead of time and refrigerated up to 24 hours.
Egg Filling:
2 cups (1 pound) firmly-packed light brown sugar
3 eggs, beaten
3 tablespoons butter, melted
Dash salt
1/4 teaspoon pure vanilla extract
In a bowl, mix together brown sugar, eggs, butter, salt, and vanilla.
Source: Photo from Gourmet Magazine, April 1985.
Comments and Reviews