Categories:
Chicken
Chicken Soup
Fall
Healthy Recipe Index (Low fat, Low Calorie, Low Carb)
Pressure Cooker Chicken Recipes
Pressure Cooker Soup Recipes
How to Make Chicken Bone Broth in the Instant Pot Pressure Cooker – Instant Pot Chicken Stock  
Learn how easy it is to make your own Chicken Bone Broth in the Instant Pot pressure cooker to feed your body a nutrient-rich soup full or minerals.  We've always known for years that a home made chicken soup made with a hearty chicken stock was good for the immune system and whatever else ails you. Bone Broth is also great for aiding in weight loss, as the broth can fill you up faster without consuming as many calories.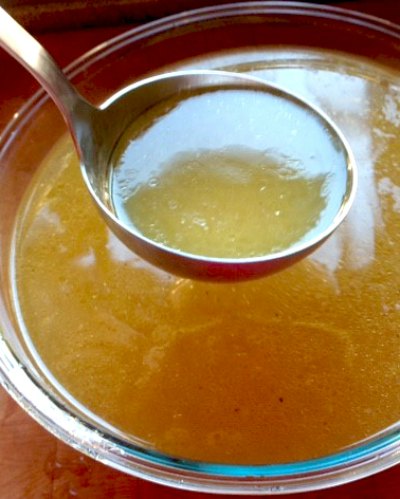 Many people tout bone broth as the new super food with claims of the collagen from the bones that seeps into the broth during cooking helps relieve joint pain, tightens/smooths the skin and aids in hair and nail growth.  It is also believed that the calcium from the soup bones helps strengthen the bones. Unfortunately, government and medical university research have not been able to prove these new claims with scientific evidence. Read more about an article published by Harvard Medical School to learn more.
We'll show you how easy and economical it is to make your own Chicken Bone Broth in the Instant Pot pressure cooker. I like to start with Pressure Cooking a Whole Chicken in the Instant Pot, then use the leftover juices, and chicken bones to cook up in the bone broth with chopped vegetables and seasonings. The cooking time for a chicken bone broth is drastically reduced with a pressure cooker compared to simmering on the stove all day. The end results are an amazing flavor to enhance your other cooking dishes or making a homemade soup such as Chicken Noodle in the Instant Pot or Chicken Tortilla Soup.
Find more Instant Pot Pressure Cooker recipes and check out more outstanding soup recipes.
Interested in making a lighter version of chicken broth in the Instant Pot? Check out our recipe for Traditional Jewish Chicken Soup.
Chicken Bone Broth in the Instant Pot Pressure Cooker Instructions (Chicken Stock):
Instant Pot Chicken Bone Broth Pressure Cooker Recipe

Ingredients:

1 fully-cooked rotisserie chicken carcass with some skin/meat left on the bones (any excess fat removed and discarded)*
Cold water**
1 medium-sized onion, chopped
2 to 3 cloves of garlic, sliced
1 inch of ginger root, peeled and sliced
2 large carrots, peeled and sliced
2 to 3 ribs celery, sliced
1 large leek, chopped - Optional
Fresh herbs such as parsley, basil, oregano or thyme - Optional
Additional vegetables of your choice***
Salt and freshly-ground black pepper to taste


*Learn how easy it is to Cook a Whole Chicken in the Instant Pot and use the reserved meat drippings to add to your broth.
If you are in a hurry, you can also purchased a pre-cooked rotisserie chicken from the grocery store. Cut or pull most of the meat off the bones and skin; reserve approximately 50% of the chicken meat for the soup (as much or as little as you desire).

** To extract the most flavor from your stock ingredients, start with cold water.

*** The amount and types of vegetables used in your stock can vary according to your taste. I like to save vegetable scraps (such as vegetable scraps from carrots, celery, kale, zucchini, squash, bell peppers, spinach, onions, beets, beet greens, potato peelings) in a ziplock bag in freezer to add to stock. This adds a lot of additional nutrients.

Instructions:

Note: If you are using a whole chicken that was first cooked in the Instant Pot, pour all the remaining liquid that was left behind after cooking the chicken into a clean inner pot to use for the bone broth. This is liquid gold and has already extracted much of the nutrients from the chicken while pressure cooking. Please don't throw out that left over liquid!

Once the cooked chicken has cooled, pick off the chicken meat from the bones and set aside. Remove the skin and eat or discard. You can save at least 50% of the meat to make a lovely Homemade Chicken Noodle Soup in the Instant Pot pressure cooker and save the rest of the chicken for another meal.

Take a strainer basket or steamer back and insert into the inner pot. Place the chopped vegetables,herbs and seasonings into the basket or strainer. Next layer the chicken bones and carcass over the top of the vegetables. Try to compact the bones close together.

Pour cold water over the top of the vegetables and bones until the bones are just barely covered. Make sure the inner pot is no more than 2/3 full or it may have trouble coming to pressure. Note: the trick to making a good bone broth is to not add too much water. you only need just enough to cover the bones. If too much water is added, then the bone broth may not gel up after cooling. All the good nutrients are in the gelatin! If you run into that issue, then you may need to let your broth simmer on the stove uncovered until the contents cook down more.

Place the lid on the Instant Pot and close to seal. Next, make sure the pressure valve is closed to the sealing position. Press the Manual button, with a high-pressure setting. Adjust the cooking time for 120 minutes. When the cooking time has finished, allow to Natural Pressure Release until you see the pressure pin drop down. (This may take 20-25 minutes since there is a lot of liquid in the pot.)

Place silicon oven mitts on your hands to protect from the steam and heat. Lift out the colander or steamer basket and discard the chicken bones and vegetables. Next, pour the broth through a strainer into another large heat-proof bowl. You can repeat this step until the broth is nice and clear.

Let the broth cool down. As the broth is cooling you can skim off visible fat floating to the top and discard.

Once the broth has cooled down enough( about 2-3 hours) cover and refrigerate until ready to use. When you check the cold broth the next day, you will notice that most of the top layer has a gelatin consistency. That is a very good sign. Some people like to cut the gelatin into cubes and eat or just reheat and drink in a cup between or before meals. Otherwise, the broth is wonderful to use in soups or other recipes to add flavor and moisture.

Serves many.

Storing Chicken Stock: The chicken bone broth can be refrigerated up to 3 days in advance of using. If not planning to use the chicken stock within 3 days, place in the freezer until ready to use. Whether the broth has been refrigerated until cold or stored in the freezer, there will be a thin layer of chicken fat that has congealed on the top. Remove that by scraping it off with a spoon before you cook with the stock. Discard the congealed fat but be careful not to scrape off any clear gelatin. I usually refrigerate my chicken bone broth and skim off the fat before using in my soup making.

https://whatscookingamerica.net/pressure-cooker/chicken-bone-broth-instant-pot.htm
This is the type of pressure cooker that I prefer to use in my cooking: I get readers asking which electric pressure cooker brand I prefer to use for cooking. I personally use the Instant Pot Multi-Use Pressure Cooker. I love having 7 cooking functions in one space-saving appliance – Pressure Cooker, Slow Cooker, Rice Cooker, Saute Pan, Steamer, Yogurt Maker and Warmer.
Learn more tips on How to Use an Instant Pot Pressure Cooker.
Comments and Reviews