Sourdough sugar cookies are delightful and a great use of your friendship starter.  Sometimes you have just a little left over and it is a waste to throw it out.  Now you can make these cookies instead.  It is a wonderful and delicious way to use your sourdough starter!
You can also add many things to the Sourdough sugar cookies such as, chocolate chips, butterscotch chips, or nuts.  This recipe was shared with me by Michele Stephens of Newberg, Oregon.  Learn how to make and use Sourdough Starter.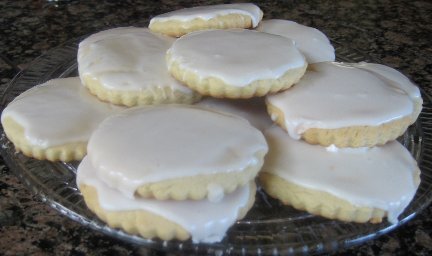 More favorite Cookie Recipes and Secrets To Making Perfect Cookies.  Also learn How To Have A Successful Holiday Cookie Exchange or Cookie Swap.
Sourdough Sugar Cookies Recipe:
Sourdough Sugar Cookie Recipe
Ingredients:
1 cup vegetable shortening
2 cups granulated sugar
3 eggs
1 1/2 teaspoons lemon extract or almond extract
1 teaspoon pure vanilla extract
1/2 cup sourdough starter*
4 1/2 cups all-purpose flour
1/2 teaspoon baking soda
1 teaspoon salt
Lemon-Milk Frosting (see recipe below)
* If you do not presently have a sourdough starter, either make your own sourdough starter or purchase Packaged Sourdough Starter Mix by mail-order.
Instructions:
In a large bowl, cream vegetable shortening and sugar. Beat in eggs, lemon or almond extract, and vanilla extract until mixture is fluffy. Stir in sourdough starter; set aside.
In a medium bowl, stir together flour, baking soda, and salt; stir into sourdough mixture. Refrigerate dough, covered, at least 1 hour or overnight.
Preheat oven to 350 degrees F.
On a lightly floured board, roll dough to 1/4-inch thick; cut into desired shapes with cookie cutters. Place 1 inch apart onto ungreased cookie sheets.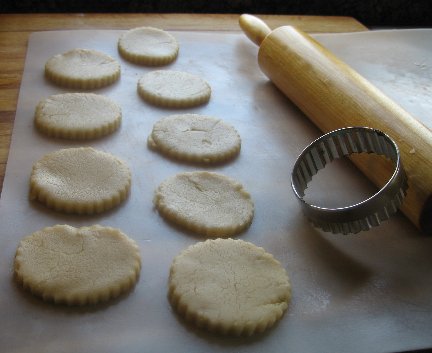 Bake 8 to 10 minutes or until very lightly browned on the bottoms. Remove from oven and cool on wire racks. When cool, frost with Lemon-Milk Frosting and decorate as desired.
https://whatscookingamerica.net/Cookie/SourSugarCookies.htm
Lemon-Milk Frosting:
2 cups powdered (confectioners) sugar
2 tablespoons freshly-squeezed lemon juice
2 tablespoons milk
In a small bowl, combine powdered sugar, lemon extract, and enough milk to make frosting easy to spread.  Tint, if desired, with a few drops of food coloring.
NOTE:  Depending on the size of your cookies, you might need to double the frosting recipe.
Comments and Reviews