My daughter makes this wonderful Blueberry Pie for her family and friends annual 4th of July camping trip.  She uses the propane oven in her camping trailer.  This blueberry pie is so good that I think she should enter it in the Pillsbury Bake Off.  What do you think?
Every Fourth of July the blueberry bush hedge in the front of our home becomes the envy of neighbors, raccoons, birds, and pedestrians on their daily walks.   Sometimes I get anxious and pick a few before the fourth, but traditionally the best flavored berries are just a few days before.  Our Fourth of July holiday takes us sand camping with family and friends, and I always arrive with a gallon bag stuffed full of the flavor bursting blueberries.  Our menu includes, blueberry pancakes, blueberry muffins, and a special cast-iron blueberry pie.  One year I forgot to bring the pie tins and substituted my trusty cast iron frying pan and found a rustic and delicious pie pan alternative.
Check out more great Pie Recipes and more Cast-Iron Cooking Recipes.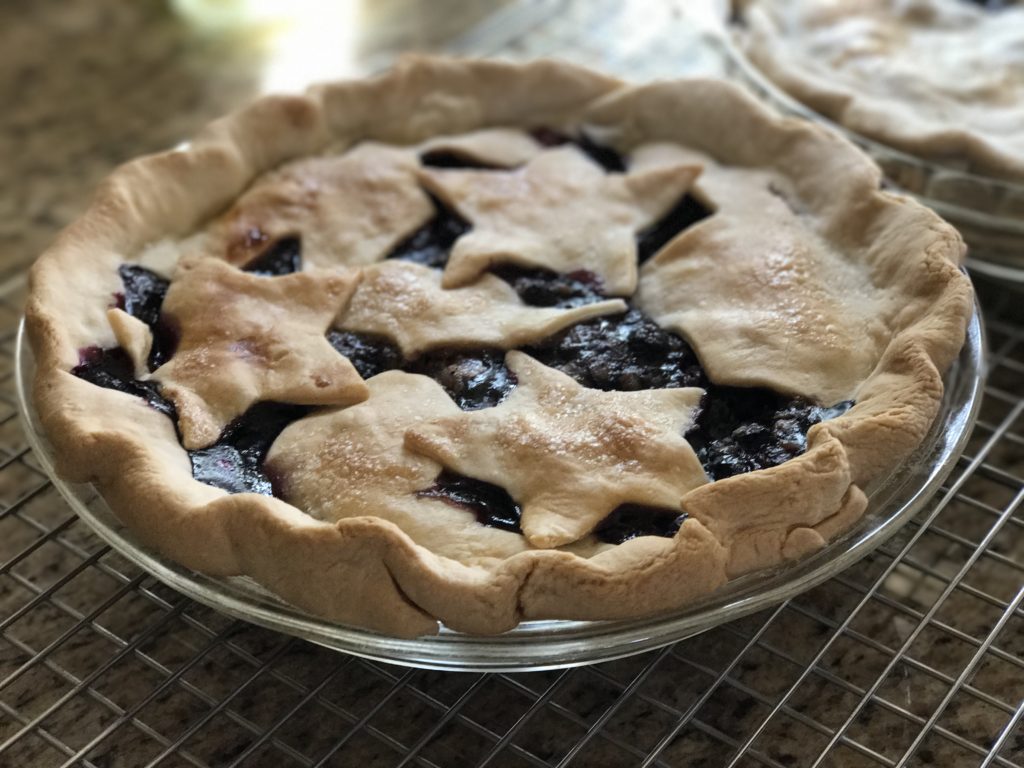 4th of July Bursting Blueberry Pie Recipe:
Ingredients:
Pre-made Pie Crust*
1 cup granulated sugar
1/2 cup all-purpose flour
2 teaspoon ground cinnamon
1 teaspoon pure almond flavoring
4 cups fresh blueberries
Zest (rind) of 1 large lemon, coarsely grated
Sugar (for sprinkling on top of pie
* I usually bring the pre-made rolled pie crusts to make it easy for me (found in your grocery store's refrigerator section). If desired, make your own crust. See Campers' Pie Crust recipe below.
Instructions:
Preheat your trailer's propane oven to 400 degrees F.
Prepare pre-made pie crust or Campers' Pie Crust (see below); set aside.
In a large bowl or pan, blend sugar, flour, cinnamon, and almond flavoring together in a bowl. Add blueberries and lemon rind; blend and mash until sugar is well blended.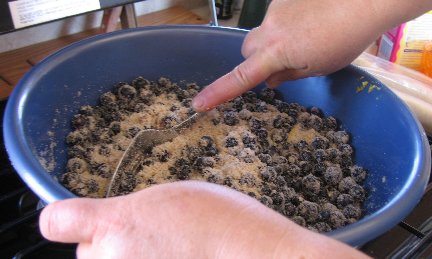 Pour the blueberry mixture, spreading it evenly, over the prepared bottom pie crust.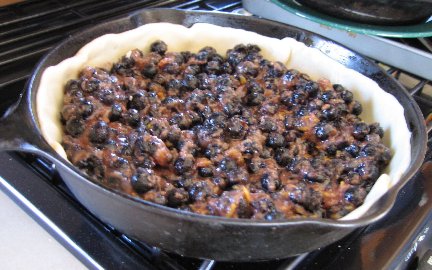 Top with the second crust and pinch the two crust together to form a seal. Cut slits into the top crust to vent while cooking. Line the outside edge of the pie crust with aluminum foil to avoid burning the crust.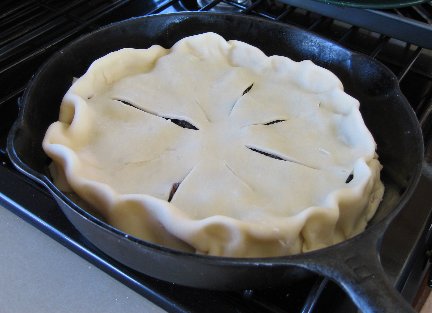 Cook approximately 30 to 40 minutes or until the internal temperature registers approximately 175 degrees F. on your cooking thermometer and the crust is nicely browned and the blueberries begin to bubble from the slits.
Remove the aluminum foil from the outer edge of the crust, sprinkle top crust with some sugar, and move the cast-iron pan to the bottom of the propane oven so the flame is above the pie. Brown the crust, watching it closely, for a few minutes.
Remove from oven and let pie cool completely before serving.
Campers' Pie Crust Recipe:
2 1/4 cups all-purpose unbleached flour
3/4 teaspoon salt
3/4 cup vegetable shortening
5 to 7 teaspoons cold water
In a large mixing bowl, combine flour and salt. Add vegetable shortening and cut into the dry ingredients with two knives or pastry blender until you have small pea size bits and crumbs.
Sprinkle the cold water over the flour mixture, 1 tablespoon at a time, while stirring gently until blended. Continue to add the water, 1 tablespoon at a time, until the dough can be formed into a mass. Flour hands and shape the dough into two even rounds. NOTE: Avoid overworking the dough with your hands.
With a floured rolling pin, roll out the rounds on a floured board until both are slightly larger then the cast-iron skillet.
Place the bottom crust in bottom of 10-inch cast iron frying pan, spreading it gently to cover the bottom and up the sides of the pan.
https://whatscookingamerica.net/Desserts/BurstingBlueberryPie.htm
Comments and Reviews