Buttermilk pie is a favorite Thanksgiving dessert staple in Texas.  This is a delicious, old-fashioned Buttermilk Pie using basic ingredients from the pantry.  Most families consider this pie their favorite holiday pie to serve especially on Thanksgiving and Christmas.
Do not be put off by the buttermilk as this is a sweet and flavorful pie with a delicate custard.  It is an elegant holiday pie to serve family and friends.  People love the creamy flavor of this pie which has a custard-like quality.  You will see many variations of buttermilk pie adding flavors like lemon or chocolate.  This version was shared by my husband's aunt, Lila Scheer, of Vancouver, WA,   This Buttermilk Pie recipe has chopped pecans sprinkled on top and it is delicious!
Some people get Chess pie and Buttermilk pie confused with each other, but there is a difference in how they are made.  Only buttermilk pie uses buttermilk where chess pie does not.  Chess pie also uses corn meal as one of the ingredients where buttermilk pie does not. Either way, they are both wonderful pies to enjoy!
Check out more great Pie Recipes and also History of Pies.
History of Buttermilk Pie:
Buttermilk pie is very popular in the Southern United States and some compare the flavor to creme brulee.  It has strong similarities to Chess Pie with its custard texture, but Chess Pie does not contain buttermilk and it uses cornmeal.  See also similarities to the Amish Sugar Cream Pies.
Buttermilk Pie is believed to have originated in England.  The recipe was brought to the United States by Southern settlers.  It was predominately made in Texas where they were very resourceful with buttermilk because it was in large abundance and inexpensive.  When fruit was not in season, this pie could be made all year round with ingredients from the pantry (sugar, flour, butter, eggs, buttermilk).  The traditional recipe for buttermilk pie calls for 2 cups of sugar which combined with the buttermilk gives the pie a very sweet and tangy flavor.  In Texas, serving buttermilk pie for dessert is a Thanksgiving tradition.  Many people recommend enjoying a slice of buttermilk pie with good strong coffee to cut the sweetness of the pie.
Comments by Kate Matthews of Shreport, Louisiana, a recipe contributor to Taste of Home Magazine:
"This recipe is older than I am and I was born in 1919!  My mother and grandmother made this pie with buttermilk and eggs from our farm and set it on the tables at church meetings and social gatherings."
Old Fashioned Buttermilk Pie Recipe:
Keyword:
Old Fashioned Buttermilk Pie Recipe
Ingredients
Pastry for 9-inch

one crust pie

1 1/2

cup granulated

sugar

3

tablespoon all-purpose

flour

1

cup

buttermilk,

divided

3

eggs,

slightly beaten

1/4

cup

butter,

melted

1

teaspoon

pure vanilla extract

1/2

cup

pecans,

chopped
Instructions
Preheat oven to 425 degrees F. Prepare pie pastry.

In a large bowl, combine sugar, flour, and 1/2 cup buttermilk. Add beaten eggs and the remaining 1/2 cup buttermilk; mix well with a whisk.

Mix in the melted butter and vanilla extract.

Pour into prepared pie crust. Sprinkle chopped pecans over the top.

Bake for 10 minutes, then reduce heat to 350 degrees F. and bake approximately 25 to 30 minutes or until the internal temperature registers at least 160 degrees F. on your cooking thermometer and the top is lightly brown and the center is set.

Remove from oven and let cool on a wire rack. Refrigerate after cooling.

I get many readers asking what cooking/meat thermometer that I prefer and use in my cooking and baking. I, personally, use the Thermapen Thermometer. Originally designed for professional use, the Super-Fast Thermapen Thermometer is used by chefs all over the world.  I only endorse a few products, on my web site, that I like and use regularly.
You can learn more or buy yours at: Super-Fast Thermapen Thermometer.
Sponsored Content
History References:
Published resource for buttermilk recipes,
Southern Cooking

by Mrs. S. R. Dull.

Homesick Texan, Buttermilk Pie, More interesting comments from readers giving some of their family history and memories with buttermilk pie

The Christian Science Monitor, Stir It Up -Thanksgiving recipe: Sorghum Buttermilk Pie, by Perre Coleman Magness.

KQED – Bay Area Bites – Culinary Rants and Raves, "Thanksgiving Dessert: Yeehaw and Buttermilk Pie with Fresh Cranberry Compote", by Kim Laidlaw, Nov 26, 2013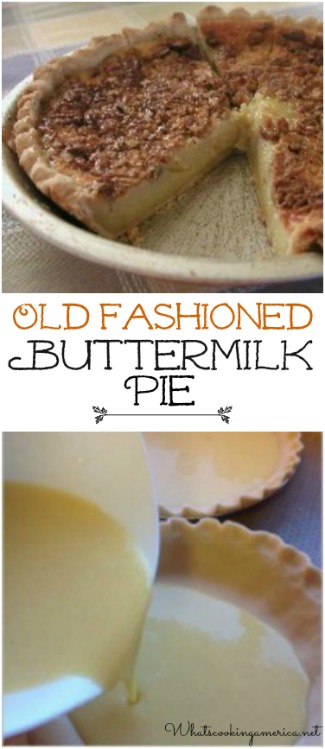 Comments and Reviews