Rhubarb Custard Pie is my Moms's recipe.  To make a long story short – I love this pie!
Rhubarb Custard Pie is mild, tangy, not too sweet, and not too tart.  The addition of eggs gives a custard filling that is creamy soft and smooth, plus also compliments the fresh rhubarb.  It is the best Rhubarb pie I have ever eaten.  It is even a "hit" with people who think they do not like rhubarb!
More delicious and easy-to-make Pie Recipes and check out Linda's Internal Temperature Cooking Charts (meat, poultry, seafood, breads, baked goods, and casseroles).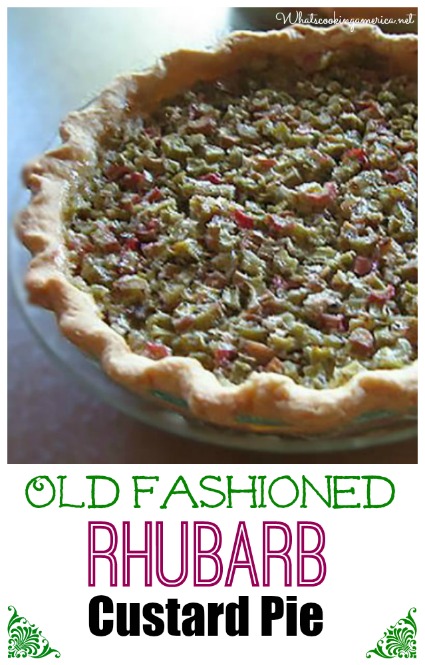 Rhubarb Custard Pie Recipe:
Rhubarb Custard Pie Recipe
Ingredients: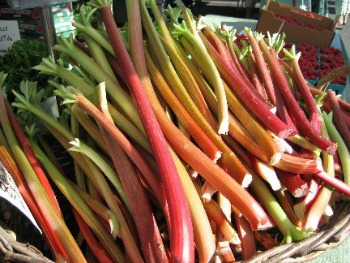 Pastry for 9-inch one crust pie
1 tablespoon all-purpose flour
3 1/2 cups (1/4-inch dice) fresh rhubarb*
1 1/2 cups granulated sugar
3 eggs, lightly beaten
1/4 cup half and half cream
1/2 teaspoon freshly-grated nutmeg
1/8 teaspoon salt
* Look for thinner rhubard stalks as they will be more tender and less fibrous than thicker stalks.
If using frozen rhubarb, measure rhubarb while still frozen, then thaw completely. Drain thoroughly in a colander, but do not press liquid out.
Instructions:
Preheat oven to 375 degrees F. Prepare pie pastry; sprinkle flour over bottom of unbaked pie pastry.
In a large bowl, combine flour, rhubarb, sugar, eggs, half and half cream, nutmeg, and salt; pour into pastry-lined plate.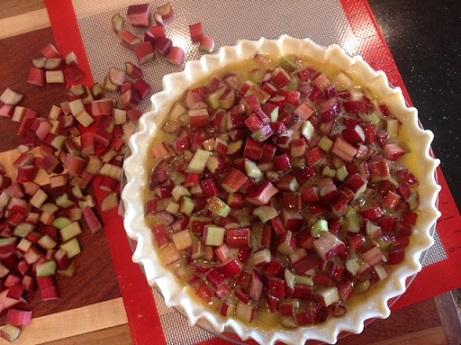 Bake in lower 1/3 of oven approximately 50 to 60 minutes or until knife inserted near center comes out clean, but the center of the custard is just set, it will jiggle a little when shaken, that's when you can remove it from the oven.
Check toward the end of baking time to make sure the edges are not too brown; if so, cover edges with aluminum foil. Remember, the pie will continue to set as it cools. If using a digital instant-read thermometer, inserted in the centers, it should register 175 degrees F. Begin checking temperature about 10 minutes before recommended times.
Remove from oven and let cool completely on a wire rack before cutting and serving (the filling needs time to set). Store in the refrigerator.
Makes 6 to 8 servings.


https://whatscookingamerica.net/Desserts/RhubarbCustardPie.htm
Comments and Reviews