Best Apple Turnovers you will every have!  This is my Mother's, Dorothy Hagerman, Apple Turnovers recipe.  When Mom made these delicious apple turnovers, our family would actually make a meal of them.  Maybe not a well-balanced meal – but so good!  Apple Turnovers are very easy to make.  Use my favorite pie pasty recipe or use your family's favorite pie pastry.
Mom was also the best Apple Pie maker.  Please be sure and check out Mom's Apple Pie Recipe, which also includes a video of her teaching me how she makes her delicious apple pie.  The video is a "hoot!"
Did you know that there is a National Apple Turnover Day in the United States?  July 5th of each year is set aside for National Apple Turnover Day.  Guess what – this day is also considered National Graham Cracker Day and National Bikini Day.  It seems there is a special day for everything!
Check out more great Apple Recipes and Pie Recipes.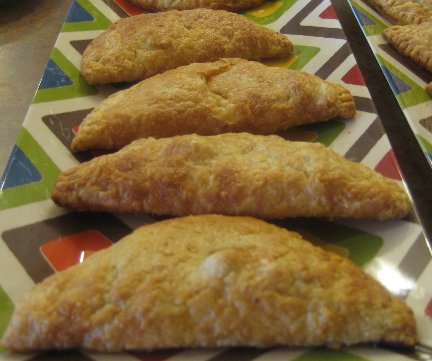 Apple Turnovers Recipe:
Keyword:
Apple Turnovers Recipe
Servings
:
10
Apple Turnovers
Ingredients
1/2

cup granulated

sugar 

1/4

teaspoon

cinnamon,

ground

1/8

teaspoon

nutmeg,

ground

1/8

teaspoon

cloves,

ground

4 to 5

medium tart cooking

apples

1 to 2

tablespoons

milk

1

tablespoon granulated

sugar
Instructions
Preheat oven to 400 degrees F.

In a large bowl, combine sugar, cinnamon, nutmeg, and cloves; set aside.

Peel, core, and slice apples approximately 1/8-inch thick. Toss apple slices in sugar mixture until well coated.

Prepare pie pastry. Roll pie crust to a 20-inch x 16-inches rectangle; cut into 10 oblongs pieces. Place prepared apple filling on top of each oblong dough piece. Fold dough over to form a square; prick ends of the dough with a fork. Place the turnovers on a large lightly-buttered baking sheet. Brush milk over top of each turnover and then sprinkle 1 tablespoon sugar onto tops.

Remove from oven and serve warm or at room temperature.

Turnovers may be frozen and heated before serving in a 400 degrees F. oven for about 5 minutes.

Makes 10 Apple Turnovers.
Recipe Notes
* Yes - The same pie crust that you would use in making an apple pie is used for the turnovers.

I get many readers asking what cooking/meat thermometer that I prefer and use in my cooking and baking. I, personally, use the Thermapen Thermometer. Originally designed for professional use, the Super-Fast Thermapen Thermometer is used by chefs all over the world.  I only endorse a few products, on my web site, that I like and use regularly.
You can learn more or buy yours at: Super-Fast Thermapen Thermometer.
Sponsored Content
Comments from Readers:
These were the best apple turnovers I have ever eaten!  They are better than anything I gotten at a bakery or supermarket.  I have never made apple turnovers before and I was leery of how successful they would come out.  Many of the other recipes call for many more ingredients for the filling.
I liked the fact that yours were simpler.  One of the things I liked about your recipe is the milk wash and sugar dusting.  Others called for an egg wash.  I was watching this show on PBS about pie places across America and the one that featured turnovers did the same thing (milk and sugar) and they looked delicious.  I have to got back to the website and check out other recipes.  Thanks for the website. – Jeanne Lawson of Addison, Maine
Comments and Reviews