Yam Hash Browns with Baked Eggs is so easy-to-make and so delicious!  This is a great dish to cook in your cast-iron pan.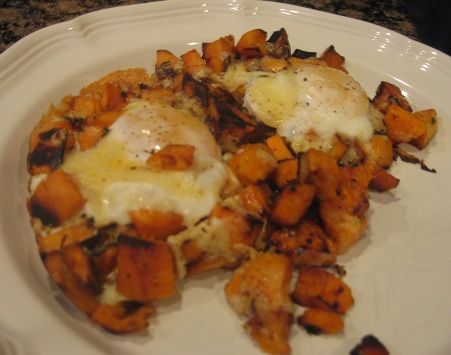 Learn all about Eggs and how to cook them, and for more great brunch ideas.  Check out my Brunch Recipes.
Yam Hash Browns with Baked Eggs Recipe:
Yam Hash Browns with Baked Eggs Recipe
Ingredients:
3 tablespoons extra-virgin olive oil
2 medium-size yams (1 1/4 pounds), peeled and cut into 1/2-inch dice
1/4 cup diced onion
1 jalapeno chile pepper, seeded and finely diced
2 cloves garlic, minced
Coarse salt and coarsely-ground pepper
4 eggs
2 ounces sharp cheddar cheese, grated (about 1/2 cup)
Instructions:
Preheat oven to 375 degrees F.
In a large oven-proof frying pan or a cast-iron skillet over medium-high heat, add olive oil. Add the diced yams and cook, stirring occasionally, until browned approximately 8 to 10 minutes. Reduce heat to medium and add the onions, chile pepper, garlic, and salt and pepper to taste. Cook approximately an additional 1 to 2 minutes.
Using the back of a spoon, make 4 wells (slight depressions) in the yam hash browns. Crack an egg into each well, season lightly with salt and pepper. Sprinkle the grated cheese on top of each egg.
Place frying pan in the preheat oven and cook for approximately 7 minutes until the whites are firm and the yolks are still runny. Remove from oven and serve immediately.
https://whatscookingamerica.net/Eggs/YamHashBrowns.htm
Comments and Reviews