Frosted Apple Squares are a fabulous coffee break treat.  They taste like an apple Danish without all the hassle of making a Danish.  They are like a little hand pie; you can even get away with eating these treats without a plate and fork.
I am always looking for new seasonal recipes because Apple pie and applesauce are always the standbys during the fall season.  This recipe gives you something new and tasty to do with all those apples that are available in the early fall.   Try making Frosted Apple Squares; they are great for dessert, or a morning treat with your coffee or tea.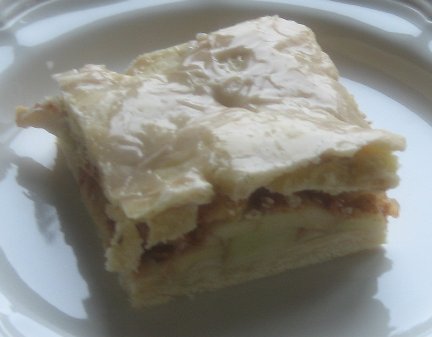 Frosted Apple Squares Recipe:
Keyword:
Frosted Apple Squares Recipe
Ingredients
Dough:
1/2

cup (4 ounces)

milk,

lukewarm

2

large

eggs

2

teaspoons

Instant Yeast

4

cups

flour

(all-purpose)

1

teaspoon

salt

1

cup

unsalted butter
Glaze:
1

cup

powdered sugar

(confectioners' sugar)

2

tablespoons

cream

or milk

1

teaspoon

pure vanilla extract
Instructions
Frosted Apple Squares Instructions:
Lightly grease a 13 x 18-inch baking pan.

Cut a piece of parchment paper into a 12 x 17-inch rectangle. Roll 1/2 of the refrigerated dough over the parchment paper into a rectangle (the dough will be quite thin).

Transfer the dough to the prepared baking pan. This is easily done by flipping it over into the pan and gently peeling the parchment off, then smoothing the dough where it needs it. Prepare Pastry Dough and refrigerate for approximately 30 minutes.

In a small bowl, combine together the sugar, cornstarch, salt, and cinnamon; set aside.

Spread the apples over the chilled dough leaving a small border of dough, and sprinkle with the prepared sugar mixture.

Roll out the remaining dough and place it over the top of the apples. Pinch the edges together. Cut steam vents in the top.

Cover with plastic wrap lightly coated with non-stick spray, and let rise in a cool place for about 1 hour.

After 30 minutes, preheat the oven to 350F.

Bake the apple pastry for approximately 25 to 30 minutes, until golden brown. Remove from the oven and cool on a rack for 20 minutes.

Prepare the Glaze and drizzle over the cooled bars; let cool completely.

Cut either into 3 -inch squares if you want to serve it as dessert (topped with ice cream, of course!), or 2 x 3-inch bars for cookies. Refrigerate any leftovers.

For added color and flavor, spread a layer of dried cranberries atop the apples before adding the top crust.
Dough Instructions:
In a small bowl, beat the milk and eggs together; set aside. In a medium-size bowl, combine the instant yeast, flour, and salt. Using a pastry blender or two knives, cut in the butter until the mixture resembles coarse crumbs. Add the egg/milk mixture, stirring until a soft dough forms. Divide the dough in half and chill for approximately 30 minutes.
Glaze Instructions:
In a small bowl, mix together the sugar, milk, and vanilla extract until smooth.
Source:  The original recipe is adapted from King Arthur Flour Baker's Catalogue.
---
More Delicious Fruit Cookies:
Cranberry Ecstasy Bars – These bar cookies are similar to Starbucks' Cranberry Bliss Bars, which are a popular accompaniment to eggnog lattes during the holidays.
Apricot Gems – These moist bars have a great flavor.  Everyone goes for these gems of a dessert!  I have had this recipe for years, and I have no idea where it is originally from.
Mincemeat Bars – Since I love mincemeat, this is a perfect way to serve it during the holiday season.
Raspberry Linzer Bars – These cookies are a very chewy cookies and delicious cookies. Makes a great Christmas cookie.
Comments and Reviews