Chewy Ginger cookies have been popular with children for generations.
Follow this step-by-step recipe to learn how to make these beautiful tea cookies. Add these chewy ginger cookies to your holiday cookie plate.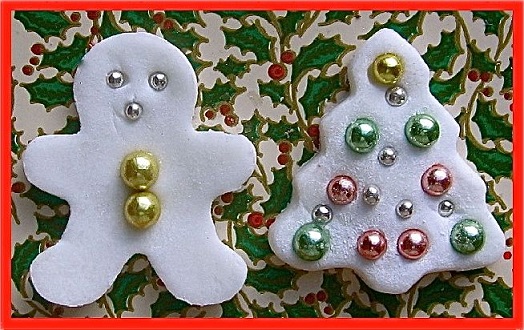 This recipe and photo are by Ellen Easton's Tea Travels™ articles and recipes. Photo by Ellen Easton 2010 – All Rights Reserved.
Check out more of Ellen Easton's Tea Travels™ articles and recipes.
Learn about the History of English High Tea and more delicious Afternoon Tea Recipes.
Chewy Ginger Cookie Recipe
Chewy Ginger Cookies Recipe
Ingredients:
1/2 cups all-purpose flour
2 teaspoons baking soda
2 teaspoons ground ginger
1 teaspoon ground cinnamon
1 teaspoon ground cloves
1 cup unsalted butter
1 cup granulated sugar
2 large eggs
1/2 cup molasses
1 tablespoon pure vanilla extract
Brown sugar or additional granulated sugar
Optional - for extra zing add very finely diced crystallized ginger bits to the batter
Fondant Icing Recipe - Marshmallow Fondant*
* Ellen used Peggy Weaver's famous Fondant Icing Recipe - Marshmallow Fondant (recipe and tutorial on making and using marshmallow fondant icing) to decorate these festive Christmas cookies.
Instructions:
Preheat oven to 350 degrees F.
In a large bowl, combine flour, baking soda, ginger, cinnamon, and cloves.
In another bowl, cream the butter and sugar together. Add the eggs, molasses, and vanilla extract; blend well.
Add the dry ingredients to the creamed mixture and mix together well. To avoid the batter from sticking to the paddles or your hands, dust with flour.
Using your hands, roll the batter into 1-inch balls. Roll each ball in the brown sugar or white granulated sugar. Place the cookie balls 2-inches apart on an ungreased cookie sheet. Bake for 10 to 12 minutes until done.
Remove from the oven and place on a wire cooling rack to cool.
Delicious when served warm.
https://whatscookingamerica.net/EllenEaston/ChewyGingerCookies.htm
Comments and Reviews