Blackberry Upside-Down Cake is so easy to make and so pretty to look at.  This recipe will probably be your go-to dish when fresh local blackberries are available.  Remember the Traditional Pineapple Upside-Down Cake which was so popular in the '50s and '60s?  How about using fresh blackberries instead of pineapple?
It is easy-to-make recipe except for picking the blackberries.  When I was a girl our mothers would send all of the neighbor kids out into the field with bowls to pick the ripe blackberries.  They were so plump and sweet, it was hard to not eat them as fast as we picked.  Eventually we would wander back home with blackberry stained hands and lips, and scratches all over our arms.  There always seemed enough berries for this delicious Blackberry upside-down cake.
Use your cast-iron frying pan when making this delicious Blackberry Upside-Down Cake.  The heavy pan keeps the butter from burning, and the handle makes it easy to flip the cake upside down when it is done.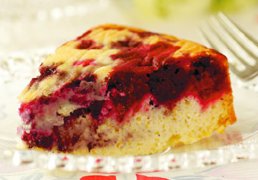 Check out more of Linda's wonderful Cake Recipes, and Cast-Iron Cooking Recipes.
Blackberry Upside-Down Cake Recipe:
Blackberry Upside-Down Cake Recipe
Ingredients:
Blackberry Topping (see recipe below)
1 cup all-purpose flour
3/4 cup granulated sugar
1 1/2 teaspoons baking powder
1/4 teaspoon salt
1 egg, room temperature
1/2 cup milk
1/4 cup butter, room temperature
1/4 teaspoon grated lemon zest
1 teaspoon freshly-squeezed lemon juice
1 teaspoon pure vanilla extract
Instructions:
Preheat oven to 350 degrees F.
Prepare Blackberry Topping (see below); set aside.
In a large bowl, combine flour, sugar, baking powder, and salt. Add egg, milk, and butter; beat 2 minutes. Add lemon zest, lemon juice, and vanilla extract; beat 2 minutes. Pour over blackberries in frying pan, spreading evenly.
Bake 40 to 50 minutes or until a toothpick inserted in center comes out clean.
Cake is done when the internal temperature registers approximately 190 to 200 degrees F. on your cooking thermometer.
Remove from oven and cool 5 minutes on a wire rack.
Run knife around edge of pan to loosen; cover with a cake plate and invert. Serve warm.
Makes 8 servings.

Blackberry Topping:
1/4 cup butter
1/2 cup firmly-packed brown sugar
1 1/2 teaspoon grated lemon zest (yellow rind)
1/4 chopped nuts (of your choice)
3 cups fresh blackberries
In a 10-inch cast iron frying pan or a 9x2-inch round cake pan over low heat, melt butter. Stir in brown sugar until blended. Remove from heat.
Sprinkle lemon zest over the brown sugar. Sprinkle chopped nuts over the top. Arrange the blackberries in an even layer over the nuts; set aside.
https://whatscookingamerica.net/Fruit/BlackberryUpsideDownCake.htm
Source:  Photo from Whole Food Market.
Comments and Reviews