Grilled Peaches are super simple, yet elegant way to end a summer barbecue dinner – a great summertime dessert. Grilled peaches are one of the simplest and most satisfying dessert. These grilled peaches are especially good as a side dish with poultry, ham, or pork, or they can be served as an easy dessert.
My father was a peach farmer, so naturally our family enjoyed this delicious fruit prepared in a variety of ways. My mother used to bake peaches in the oven, but modern cooks grill or barbecue them.
Recipe and comments by Clara H. Eschmann, Food Columnist for The Macon Telegraph.
More great Peach Recipes.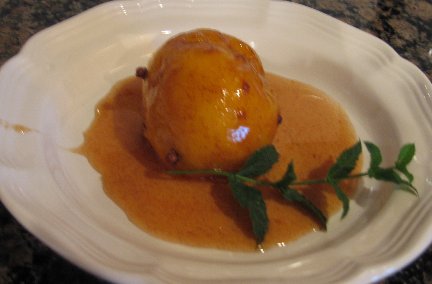 For more great Low Fat Recipes, Low Calorie Recipes, Low Carbohydrate recipes, and Diabetic Recipes, check out my Diet Recipe Index. Also check out my Nutritional Chart for fat grams, fiber grams, and calories for all your favorite foods.
Grilled Peaches Recipe:
Ingredients:
8 firm and ripe peaches
48 whole cloves
1 teaspoon ground cinnamon
1 cup granulated sugar
Mint sprigs for garnish
Instructions:
Preheat Barbecue grill. Lightly spray grill with oil or cooking spray to prevent sticking.
Fill a large pot with water and bring to a boil. Carve an "X" on bottom of each peach. Immerse peaches in boiling water for 30 seconds. Remove and immediately plunge into ice water. When cooled, gently pull off skin with a paring knife.
Stick 6 whole cloves into each peach. In a small bowl, combine cinnamon and sugar; roll peaches in sugar-cinnamon mixture. Place each peach, stem-side down, on a square of heavy-duty aluminum foil. Sprinkle remaining sugar-cinnamon mixture over peaches; tightly close foil around each peach.
Place packets on gas grill over low heat or on charcoal grill 5 to 6 inches from coals. Cook approximately 15 to 20 minutes or until heated through. Remove packets from grill.
Carefully open packets and remove and discard cloves. The peaches are so juicy, it is a good idea to open each packet in a serving bowl in order to capture all the juice.
Serve hot or cold as a side dish, or with ice cream, if desired, for dessert.
NOTE: Grilled peaches freeze well or can be refrigerated for use within a week.
Makes 8 servings.
Each Serving Totals - .1 Fat Grams, 136 calories, 2.6 WW Points
https://whatscookingamerica.net/Fruit/GrilledPeaches.htm
Source: Recipe from cookbook Grilling – Food Writers' Favorites, edited by Barbara Gibbs Ostmann and Jane Baker.
Comments and Reviews