Frozen Orange Souffle with Grand Marnier always seems to capture people's attention when served.  It is an impressive souffle dessert that is not too rich, but just right!   It is an light dessert that is great after a heavy meal.
This is an easy-to-make dessert that can be made a couple of days ahead of time, if desired.  The perfect addition to any meal or gathering.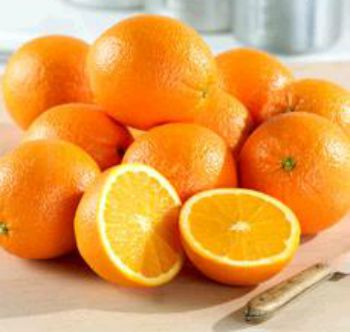 Frozen Orange Souffle Recipe:
Frozen Orange Souffle Recipe
Ingredients:
8 medium-size oranges
2/3 cup granulated sugar
2 teaspoons grated lemon zest
6 large egg yolks, room temperature
2 teaspoons minced fresh mint leaves
2 1/4 cups heavy cream, whipped to firm peaks
6 tablespoons Grand Marnier or other orange-flavored liqueur
Cocoa powder, garnish
Instructions:
Cut 1/3 of the top off each orange and scoop out all flesh, reserving the flesh and any juice.
Strain the flesh, firmly pressing down to extract as much juice as possible.
In a saucepan, combine the orange juice, sugar, and lemon zest; reduce by 1/2 over high heat, stirring to help the sugar melt. Remove from heat, set aside, and let cool.
In a mixing bowl, beat the egg yolks and cooled orange juice mixture together until light and thick. Carefully fold in the mint, whipped cream, and Grand Marnier.
Using a pastry bag or a spoon, pipe the mixture into the hollowed-out orange shells.
Freeze for at least 3 hours or until the mixture is firm.
Serve garnished with a dusting of cocoa power on top.
TIP: Serve on chilled plates so the souffles do not melt too quickly.
Makes 16 Orange Souffles.
https://whatscookingamerica.net/Fruit/OrangeSouffle.htm
Source:  Recipe from the cookbook From the Earth to the Table, John Ash's Wine Country Cuisine, by John Ash.
Comments and Reviews