Green Pea Salad is a family favorite that I enjoyed when I was young, and still do today.  It is a very easy-to-make vegetable salad using fresh or frozen peas. Great for taking to a spring potluck or even a summer picnic.  Your family will love this recipe!
Fresh peas come in and out of season very quickly!  If you are lucky enough to find some fresh green peas, please do use them in this Green Pea Salad recipe. You will not be sorry!  Otherwise frozen green peas work great.
This Green Pea Salad also goes especially well with lamb.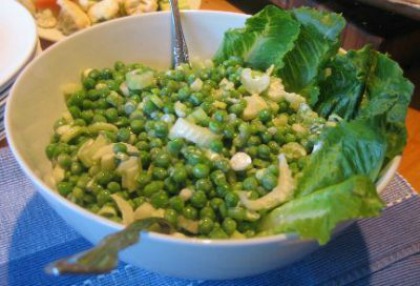 More of Linda's delicious Salads and Salad Dressing Recipes.
Green Pea Salad Recipe:
Ingredients:
1 (10-ounce) package frozen petite green peas or approximately 2 cups fresh peas
1 cup thinly-sliced celery
3 green onions, thinly sliced
2 tablespoons mayonnaise
2 tablespoon sour cream
1 to 2 teaspoons freshly-squeezed lemon juice or to taste
Coarse salt and freshly-ground black pepper to taste
Instructions:
Frozen Peas: If you are using frozen peas, thaw, drain and pat dry with paper towels.
Fresh Peas: If you are using fresh peas, bring a pot of lightly salted water to a boil. Add peas and cook until just tender, approximately 2 to 3 minutes. Drain and refresh under cold running water. Pat dry with paper towels.
In a medium-size bowl, add prepared green peas, celery, and onions; set aside.
In a small bowl, combine mayonnaise, sour cream, lemon juice, salt, and pepper.
Pour prepared mayonnaise mixture over the pea mixture and toss lightly.
Cover and refrigerate at least 1 hour before serving.
Serves many.
https://whatscookingamerica.net/GreenPeaSalad.htm
Comments and Reviews