Grilled Halibut with Lime-Mustard Sauce recipe was created because I wanted to barbecue.  The Lime-Mustard Marinade enhances the flavor of the grilled halibut without overpowering it.  I know your family and guests will love this halibut dish.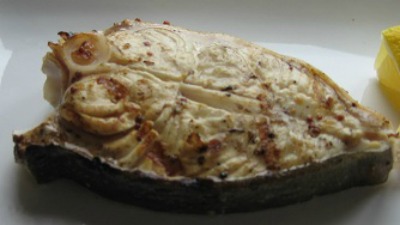 More of Linda's great Halibut Recipes and also How To Select, Buy, and Cook Fish.
Grilled Halibut with Lime-Mustard Sauce Recipe:
Grilled Halibut with Lime-Mustard Sauce Recipe
Ingredients:
Lime-Mustard Sauce (see recipe below)
4 (1-inch-thick) halibut steaks (about 3/4 pound each)*
* Halibut filets may be substituted
Instructions:
Prepare Lime-Mustard Sauce. Preheat barbecue grill.
Place halibut steaks or fillets (skin side down) on sheets of aluminum foil and cut the foil around the fillets approximately 1/4-inch bigger (this keeps the fish from sticking to the grilling racks). I also spray the racks with vegetable oil (makes for easier cleaning).
Spread the Lime-Mustard Sauce over the top of the halibut.
Cover barbecue with lid, open any vents, and grill halibut until a meat thermometer registers an internal temperature of 140 degrees F (halibut will be slightly opaque in thickest part). Remember the halibut continues to cook after it is removed from the heat source.

This is the type of cooking and meat thermometer that I prefer and use in my cooking. I get many readers asking what cooking/meat thermometer that I prefer and use in my cooking and baking. I, personally, use the Thermapen Thermometer shown in the photo on the right. To learn more about this excellent thermometer and to also purchase one (if you desire), just click on the underlined: Thermapen Thermometer.
When cooked to your liking, carefully remove the halibut from the grill and transfer onto individual serving plates.
Makes 8 servings.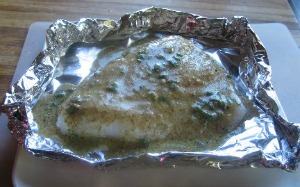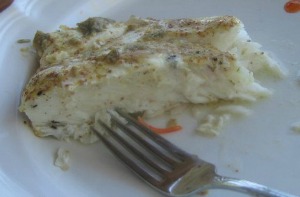 Lime-Mustard Sauce:
Zest of 1 lime
2 limes, juice*
2 tablespoons Dijon mustard
1 tablespoons extra-virgin olive oil
1 tablespoon finely-chopped fresh chives or green onion
1 teaspoon coarse salt
Coarsely-ground black pepper
* If I am out of fresh limes, I have substituted lemon juice.
In a small bowl, whisk together the lime zest, lime juice, Dijon mustard, olive oil, chives or green onion, salt, and pepper.
https://whatscookingamerica.net/HalibutLimeMustard.htm
Comments and Reviews