Apple Pancake is a German tradition that is also known as Apfelpfannkuchen.  Apfel (pronounced AP-fel) is the German word for apple.  Adding it to the front of pfannkuchen get us delicious apple pancakes.  It is a single large pancake smothered with sauteed apples and cinnamon sugar, plus baked to perfection.
The smell of the apples cooking in the oven will drive you wild – let alone the taste of this Apple Pancake after it is baked!  You could not serve a better pancake recipe to your family and friends for breakfast or brunch.   So good!
Learn all about Eggs and how to cook them.  For more great brunch ideas, check out my Brunch Recipes.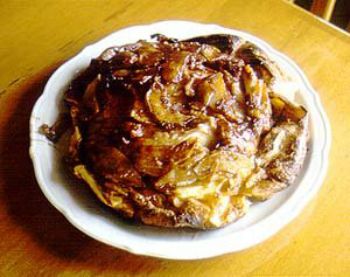 Apple Pancake Recipe:
Keyword:
Apple Pancake Recipe
Servings
:
2
to 4 servings
Ingredients
2

tart cooking

apples,

peeled, cored, and sliced into 1/4-inch slices

1/4

cup

sugar

(granulated)

2

teaspoons

ground cinnamon

3

eggs,

beaten and room temperature

1/2

teaspoon

salt

1/2

cup

flour

(all-purpose or bread flour)*

1/2

cup

milk,

room temperature

1/4

teaspoon

pure vanilla extract

7

tablespoons

butter
Instructions
Preheat oven to 425 F. Place oven rack in the middle of your oven.

In a small bowl, combine sugar and cinnamon; set aside.

In a large bowl, combine eggs, salt, flour, milk, and vanilla extract; beat until batter is smooth (the batter will be thin, but very smooth and creamy); set aside.

In a large heavy ovenproof frying pan or a cast-iron skillet (I like to use my 10-inch cast-iron skillet) over medium heat, melt butter, tilting pan to cover sides. Add apples and sprinkle with sugar and cinnamon mixture. Stir and let cook for 5 to 7 minutes to slightly cook the apple slices; remove from heat.



Pour prepared pancake batter over the apples into the baking pan. Place pan in preheated oven and bake approximately 20 minutes or until puffed above sides of the pan and lightly browned (it may puff irregularly in the center); remove from oven.

Remove pancake from the baking pan by flipping upside down onto a serving platter (apples and cinnamon will be on top). Once out of the oven, the pancake will begin to deflate.

To serve, cut into serving-size wedges and transfer to individual serving plates. Serve with an optional dusting of powdered sugar over the top

Makes 1 large pancake of 2 to 4 servings (depending on your appetite).
Recipe Notes
*  Bread four is a high-protein flour.  The high protein helps the pancake rise.  All-purpose flour may be use, but the results will not be as spectacular.
Source:  Photo from the Original Pancake House restaurant in Portland, Oregon.  Other photos shared by Al Kapp of Genoa City, Wisconsin
Comments and Reviews