Pepper Crusted Halibut with Chile-Mint Sauce is an exciting new way to delight and please your senses.  When fresh halibut is available in the market, this is one of my "go to" recipes to make every year.  I really enjoy fresh halibut as it is delicious baked, grilled, poached, or broiled.  So enjoy the taste of this wonderful Pepper Crusted Halibut.
I adapted this delicious halibut recipe from Simply Seafood Magazine.  So good!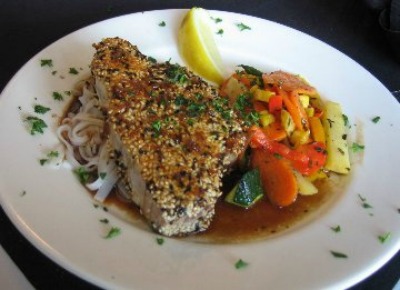 More of Linda's great
Halibut Recipes
 and also
How To Select, Buy, and Cook Fish
.
Pepper Crusted Halibut with Chile-Mint Sauce Recipe:
Pepper Crusted Halibut with Chile-Mint Sauce Recipe
Ingredients:
1 cup Japanese-style (panko) dry bread crumbs
1 tablespoon fresh thyme leaves
1 tablespoon minced garlic
2 teaspoons coarsely ground black pepper
1 teaspoon salt
1 teaspoon grated lemon zest
2 tablespoons olive oil
4 halibut filets (approximately 1-inch thick)
1 cup dry white wine
Chile-Mint Sauce (see recipe below)
Mint leaves for garnish
Lime wedges for garnish
Instructions:
Preheat oven to 425 degrees F.
In a small bowl, combine the bread crumbs, thyme, garlic, pepper, salt, and lemon zest.
In a large non-stick frying pan or Cast Iron Pan over medium-high heat, add olive oil. Add halibut filets and sear one side only approximately 2 to 3 minutes to a golden brown. Remove from pan and transfer to a baking dish, seared-side up.
Drizzle with white wine and sprinkle liberally with the remaining bread crumb mixture.
Bake in the oven 5 to 7 minutes or until a meat thermometer registers an internal temperature of 140 degrees F (halibut will be slightly opaque in thickest part). Remember the halibut continues to cook after it is removed from the heat source.

This is the type of cooking and meat thermometer that I prefer and use in my cooking. I get many readers asking what cooking/meat thermometer that I prefer and use in my cooking and baking. I, personally, use the Thermapen Thermometer shown in the photo on the right. To learn more about this excellent thermometer and to also purchase one (if you desire), just click on the underlined: Thermapen Thermometer.
To serve, drizzle some of the Mint Sauce on individual serving plates and top with the halibut. Garnish with fresh mint and a lime wedge.
Makes 4 servings.

https://whatscookingamerica.net/HalibutPepperMint.htm
Chile-Mint Sauce Recipe:
2 cups loosely packed fresh mint leaves
1 cup fish stock or clam nectar
1/4 cup sliced almonds, toasted
1 jalapeno chile pepper, roasted, peeled, and seeded
1 tablespoon minced garlic
Juice of 2 limes
Salt and pepper to taste
In a food processor or blender, puree together the mint leaves, fish stock or clam nectar, almonds, jalapeno chile, and garlic.  Season to taste with lime juice, salt, and pepper.  NOTE: The sauce should have the consistency of heavy cream (adjust the consistency with water if necessary).
This sauce may be made ahead and refrigerated until just before serving.
Comments and Reviews