Lemony Braised Lacinato Kale recipe really stands out as a healthy and delicious side dish.  Did you know that Kale, a cruciferous vegetable, is one of the healthiest vegetables around.  Lacinato kale is also called black kale, cavolo nero, dinosaur kale, and Tuscan kale.  It is a dark green, bumpy, very flavorful cousin of ordinary kale.  Excellent served with 
Beef Braised In Barolo Wine
and
Risotto alla Milanese
.  Enjoy this bright green veggie.
This delicious Lemony Braised Lacinato Kale recipe, comment, and photos were shared with my by Karen Calanchini, Food Stylist and Photographer, of Redding, CA.
Check out Karen's Smoked Turkey, Bean and Kale Soup using this delicious Lacinato Kale and also more delicious Vegetable Recipes.
Lemony Braised Lacinato Kale Recipe
Ingredients:
1 large bunch (about 10 ounces) Lacinato Kale, leaves rinsed and thick center ribs cut out*
Scant 1/2 tablespoon extra-virgin fruity olive oil
2 to 4 garlic cloves, or to taste
1/8 cup dry white wine (I used vermouth)
1/4 to 1/2 cup chicken stock
1 teaspoon coarse salt or sea salt
1 to 2 teaspoons freshly-squeezed lemon juice, to taste
* Regular Kale or Swiss Chard may be substituted.
Instructions:
The thickest part of the center rib of the Lacinato Kale can easily be cut out with a sharp knife. Pile leaves on top of each other and sliced the bunch into 1-inch pieces.
Lacinato Kale Leaves Lacinato Kale Leaves with Stems Removed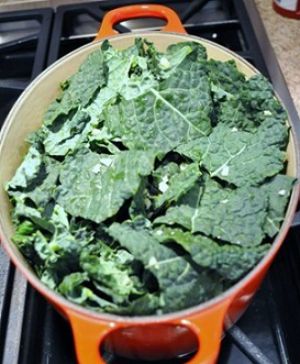 Bring a large pot of water to a boil, add prepared kale. Cover and cook just until slightly wiled, approximately 3 to 5 minutes. Remove from heat and drain well.
In a large fry pan or heavy-bottomed pot over low heat, heat olive oil. Add garlic and saute stirring often, until soft. Add kale and wine; cover and cook until almost all the liquid has evaporated. Add 1/4 cup chicken stock and cook until stock is almost evaporated and kale is very tender, approximately 30 minutes. Check for tenderness.
NOTE: If needed, add the remainder of the chicken stock and cook until done. The kale, depending on your source and how long the kale has been picked, may take even longer to cook. Just add additional chicken stock or water if needed.
Season to taste with salt and lemon juice; toss with tongs and serve.
Makes 2 servings.
https://whatscookingamerica.net/KarenCalanchini/BraisedLacinatoKale.htm
Comments and Reviews