Chicken Enchiladas with Peppers and Tomato Sauce are an easy to make Tex-Mex dish to entice and thrill your family and friends.
This delicious Chicken Enchiladas recipe and photos were shared with me by Karen Calanchini, Food Stylist and Photographer, of Redding, CA.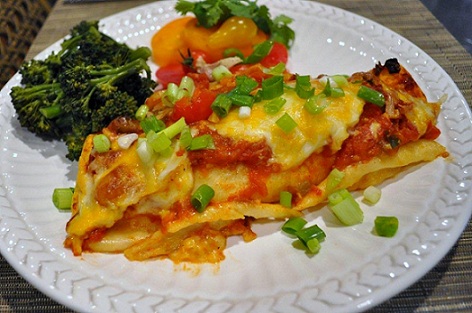 Chicken Enchiladas with Peppers and Tomato Sauce Recipe:
Chicken Enchiladas with Peppers and Tomato Sauce Recipe
Ingredients:
Chunky Tomato Sauce (see recipe below)
1 roasted whole chicken, bones and skin removed*
1 tablespoon olive oil
1 red bell pepper, stemmed, seeded and cut into strips
1 orange bell pepper, stemmed, seeded, and cut into strips
1 medium onion, cut into 1/4-inch wedges
6 flour tortillas (be sure you purchase or make the size that will fit into your baking dish)**
4 ounces shredded sharp cheddar cheese
4 ounces shredded Monterey Jack cheese
Sour Cream
Green onions, chopped
* I buy a fresh-roasted chicken from my local market. These store-bought chickens tend to be a little smaller than the ones you would buy to roast in your home oven.
** How To Make Flour Tortillas.
Instructions:
Prepare Chunky Tomato Sauce. May be made in advance and refrigerated until ready to use.
Preheat oven to 350 degrees F.
Using your hands, pull the chicken meat into shreds; set aside.
In a frying pan or sautpan, add the bell peppers and onion; saute until the onions and peppers are slightly cooked. Note: I like my vegetables left a bit crunchy. Cook longer if you prefer a softer texture. Set aside.

To Assemble Enchiladas: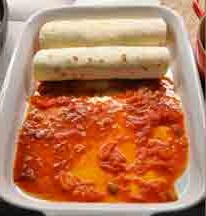 Place a little of the prepared Chunky Tomato Sauce on the bottom of a 9-inch by 13-inch oven-safe baking dish.
On a flat surface or cutting board, place a flour tortilla.
Add some shredded chicken and some pepper/onion mixture down the center of the tortilla; roll the tortilla up tightly into a cylinder.
Place, seam-side down, into the baking dish. Continue filling all the flour tortillas and placing into the baking dish. You will have six (6) enchiladas when filled.
Spread the remaining Chunky Tomato Sauce over the top of all the enchiladas.
Sprinkle the shredded Cheddar and Monterey cheeses over the top. Bake for approximately 45 minutes or until the cheese is melted and the enchiladas are heated through. Remove from oven and sprinkle chopped green onion over the top. Serve with sour cream on the side.



Makes 6 enchiladas.
Chunky Tomato Sauce:
5 yellow tomatoes, peeled and cores removed*
5 red tomatoes, peeled and cores removed*
2 garlic cloves, minced
1/2 jalapeno chile pepper, stemmed, seeded and diced
1 whole Jimmy Nardello Sweet Pepper, stemmed, seeded and diced**
1/2 teaspoon ground cumin
1/4 teaspoon Chipotle Chili Powder
Coarse salt or sea salt and freshly-ground pepper, to taste
* Learn How To Peel Fresh Tomatoes.
** The Jimmy Nardello's sweet pepper is sweet and light when eaten raw. It is considered one of the very best frying peppers as its fruity raw flavor becomes perfectly creamy and soft when fried. These peppers were brought to the United States in 1887 by Guiseppe Nardello from the small village of Ruoti in the Basilicata region of southern Italy. Anaheim chile peppers or any green chili pepper of your choosing may be substituted.
After peeling the tomatoes, cut them into quarters and into a large pot. Add garlic and chile peppers; cook over medium heat until the tomatoes start to break down, using a wooden spoon to break up any remaining large chunks. Add cumin and Chipotle chili powder; cook until the tomatoes form a thick chunky sauce, stirring occasionally so the tomatoes do not stick to the bottom of the pan.
Add salt and pepper to taste and adjust seasonings to your taste.
https://whatscookingamerica.net/KarenCalanchini/ChickenEnchiladas.htm
More Delicious Enchilada Recipes:
Comments and Reviews