Cilantro Rice has is an easy-to-make dish – definitely restaurant quality.  This rice has a wonderful pop of flavors that just burst in your mouth with freshness from the cilantro and lime.  Great as a side dish to serve with your favorite Mexican meal.   It is a nice change from the traditional red Mexican rice dishes. The burst of lime zest and traditional cilantro really makes a great combination.  It is also excellent served with braised Beef Short Ribs with Lime and Chile Sauce.
Recipe, comments, and photo were shared with me by Karen Calanchini, Food Stylist and Photographer, of Redding, CA.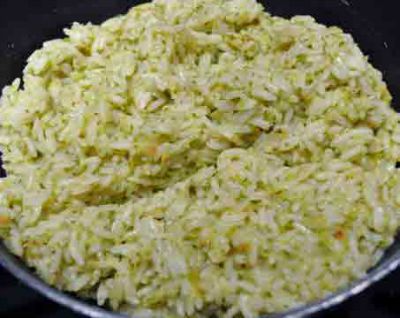 Cilantro Rice Recipe:

Ingredients:
Rice (For each 1 cup of cooked rice, add the below mixture. Taste as you add ingredients so you can get it just as you like it. I personally like to use Jasmine Rice in this recipe):
2/3 cup chopped and loosely-packed fresh cilantro leaves and stems
1/3 cup chopped yellow onion1/4 cup chopped green onions
1/2 to 1 jalapeno chile pepper, chopped
1 tablespoon fresh-squeezed lime juice
1 teaspoon extra-virgin olive oil
Instructions:
Prepare cooked rice according to package directions.
In your blender, puree the cilantro leaves, yellow onion, green onions, chile pepper, lime juice, and olive oil.
Pour dressing mixture over the cooked rice, stirring well.
Taste and add salt and pepper if needed. Additional lime juice may also be added.
https://whatscookingamerica.net/KarenCalanchini/CilantroRice.htm
Comments and Reviews