Categories:
Corn
Crab
Crab Appetizers
Pacific Northwest
Tomato Appetizers
Tomatoes
Make these delicious Crab Cakes with Tomato Corn Salad during your local crab season and use the best fresh ingredients you can find.
 This crab dish is very easy to put together, is loaded with flavor and color, and company worthy.  When making this recipe, look for Panko bread crumbs that are natural.  Many have one or more oils, shortening, or sugar which is not needed.  Check with your local health food store for a good brand.  Most supermarkets carry flavorful cherry tomatoes this time of year, so making this out of tomato season is a cinch.  A side dish of
Oven-Roasted Asparagus
is lovely with these Crab Cakes with Tomato Corn Salad.
More delicious Crab Recipes and Appetizer Recipes for more great cooking ideas.
This delicious recipe, comments, and photos were shared with my by Karen Calanchini, Food Stylist and Photographer, of Redding, CA.
Crab Cakes with Tomato Corn Salad Recipe:
Crab Cakes with Tomato Corn Salad Recipe
Ingredients:
Aioli Fusion Sauce (see recipe below)
Tomato Corn Salad (see recipe below)
Crab Cakes (see recipe below)
Instructions:
Prepare Aioli Fusion Sauce and refrigerate until ready to serve.
Prepare Crab Cakes. Place in refrigerator at least 1 hour.
While the prepared crab cakes are refrigerating, prepare Tomato Corn Salad.
When ready to serve, in a large frying or sautpan, heat saffron oil over medium heat. Fry the prepared and refrigerated crab cakes, turning once, until browned, about 4 minutes on each side. Transfer with a slotted spoon to paper towels to drain.
Serve crab cakes with Aioli Fusion Sauce and Tomato Corn Salad on the side
Makes 2 to 4 servings (depending on your appetite).



Aioli Fusion Sauce Recipe:
1/2 cup of a good-quality mayonnaise
Grated zest and juice from 1/2 of a lime
1 clove minced garlic
1 teaspoon Chile Sauce (Heinz is good brand)
Salt and white pepper to taste
Combine the mayonnaise, lime juice, zest, garlic, and chile sauce, and mix well. Add salt and pepper to taste. Cover and refrigerate until ready to serve.
Crab Cakes Recipe:
12 to 14 ounces fresh picked crab meat (that has a good amount of lump crab)
1/2 cup of a good-quality mayonnaise
3 tablespoons finely-diced red bell pepper
3 tablespoons finely-diced celery heart
2 tablespoons finely-diced red onion
1 tablespoon minced fresh flat-leaf parsley
1 tablespoon fresh-squeezed lemon juice
3 cups Panko Japanese breadcrumbs
Coarse sea salt and freshly-ground black pepper to taste
Saffola oil for frying
Carefully clean the crab meat of any shells or cartilage.
In a large bowl, combine crabmeat, mayonnaise, bell pepper, celery, onion, parsley, and lemon juice. Stir and mix thoroughly. Add 1 cup of panko bread crumbs and mix well (adding a bit more if needed) until the mixture holds together. Season with salt and pepper.
Spread remaining 2 cups panko crumbs in shallow bowl or pie plate.
Divide crab mixture into 5 to 6 portions and shape each into a flat, round cake about 1/2 inches thick. Dip each crab cake into the panko crumbs, patting well so that the panko crumbs adheres. Place cakes on a baking sheet lined either parchment or wax paper; cover with plastic wrap and refrigerator at least 3 hours or overnight (the cold will firm up the cakes so that they will not break up when fried).
In a large nonstick frying pan over medium heat, heat saffola oil until hot but not smoking (add more oil if needed). Gently lay chilled crab cakes onto bottom of the pan; slowly fry crab cakes approximately 4 minutes per side or until crisp and golden brown, turning once only with a spatula. If the crab cakes start to brown too quickly, reduce heat. The internal temperature should be 150 to 155 degrees F. with an cooking thermometer. Remove from heat and transfer with a slotted spoon to paper towels to drain.

This is the type of cooking and meat thermometer that I prefer and use in my cooking. I get many readers asking what cooking/meat thermometer that I prefer and use in my cooking and baking. I, personally, use the Thermapen Thermometer shown in the photo on the right. To learn more about this excellent thermometer and to also purchase one (if you desire), just click on the underlined: Thermapen Thermometer.



Tomato Corn Salad Recipe: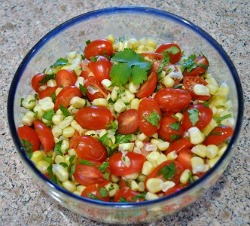 2 large ears corn steamed, boiled, or grilled until done (about 6 minutes) and cooled*
1 pint or more of sweet cherry tomatoes halved
1 to 2 tablespoons fresh chopped cilantro, stems may be chopped, as well
1/4 cup (or less) of seasoned rice vinegar
Coarse sea salt and freshly-ground black pepper to taste
* Learn How To Grill Corn On The Cob and How To Boil Corn On The Cob.
Let the corn cool slightly and then cut the kernels from the cobs. Scrape the corn kernels from the ears of corn by using a sharp kitchen knife and a large cutting board. Cut off the stem end to give a flat base. Hold the ear, tip end up, then cut downward, removing a few rows at a time.
In a medium bowl, combine the corn kernels, cherry tomatoes, salt, and pepper; add the seasoned rice vinegar a little at a time, until you get the taste you desire.
If making ahead, hold the vinegar, salt and pepper until just before serving, then add and mix well.
https://whatscookingamerica.net/KarenCalanchini/CrabCakes-TomatoCornSalad.htm
Comments and Reviews