This colorful Farro Salad with Buttermilk Dressing may be served cold or at room temperature, which I prefer.  Farro is an ancient grain that has long been loved in Italy because of its delicious nutty flavor and chewy texture.  Farro is considered the Mother of all grains; the original grain from which all others come from including rice, barley, wheat and rye.  Farro is now enjoying a resurgence among chefs worldwide.
Farro Salad recipe, comments, and photo were shared with my by Karen Calanchini, Food Stylist and Photographer, of Redding, CA.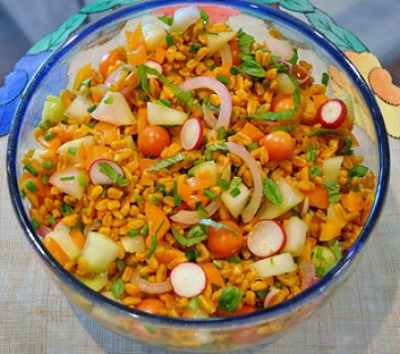 Farro Salad with Buttermilk Dressing Recipe:
Farro Salad with Buttermilk Dressing Recipe
Ingredients:
Buttermilk Dressing (see recipe below)
1/2 cup Farro Pelato*
1 cup rich chicken stock/broth**
1/2 teaspoon Goya Sazon con Azafran seasoning***
5 baby radishes, sliced very thin
1/4 cup marinated cucumber chunks****
1/8 cup marinated red onion slices****
1/4 cup chopped orange bell pepper
1/2 of a small jalapeno chile pepper, diced
10 very small cherry tomatoes of various colors
2 tablespoons chopped fresh chives
2 tablespoons chopped fresh basil leaves
* To purchase farro, look for Farro Perlato, which indicates that the hull has been removed and there is no need to pre-soak.
** Learn how easy it is to make your own homemade chicken stock/broth.
*** Goya Sazon con seasoning can be found in Spanish stores or large supermarkets. Look in the spice section.
**** I had cucumber and red onions marinating in apple cider vinegar and sugar, so I used those. You may also use un-marinated cucumbers and any type of onion that you have. Very thinly-sliced zucchini squash is also good with this recipe.
Instructions:
Prepare Buttermilk Dressing; refrigerate until ready to use.
In a large saucepan over medium-high heat, add Farro Pelato, chicken stock, and the Goya seasoning. Bring just to a boil, reduce heat to medium low, and let simmer for approximately 25 to 30 minutes. Remove from heat and let steam for another 10 minutes. Check the farro after 25 minutes, and add a bit more broth if needed. When cooked, Farro will be chewy (sort of like al dente paste). When done, fluff with a fork and let completely cool.
After the Farro has cooled, transfer to a large bowl. Add radish slices, cucumber chunks, onion slices, and the diced tomatoes. Gently mix everything together. Add the chives and basil.
Toss with the prepared Buttermilk Dressing. Taste and add salt if needed. Garnish with additional chopped chive.
Refrigerate until serving time.
Makes a large salad.
Buttermilk Dressing Recipe:
2 cloves garlic, minced
Coarse salt or sea salt, to taste
1/2 cup buttermilk, well shaken
1/4 cup champagne vinegar
1/8 cup extra-virgin olive oil
1 teaspoon fresh chopped thyme
In a bowl, combine the garlic, salt, buttermilk, vinegar, olive oil, and thyme.
Refrigerate until ready to use.
https://whatscookingamerica.net/KarenCalanchini/FarroSalad.htm
Comments and Reviews