Grilled Ahi Tuna with Oriental Sauce Recipe is a great company dish that is easy to prepare ahead of time with just a few last minute garnishes.  It is appealing to the eye, very flavorful, and light.  Serve with a do ahead Orange Zested Wheat Berries Salad and Oven-Roasted Asparagus, drizzled with walnut oil, and lemon zest.
This delicious Grilled Ahi Tuna recipe, comments, and photos were shared with my by Karen Calanchini, Food Stylist and Photographer, of Redding, CA.
How To Select, Buy, and Cook Fish.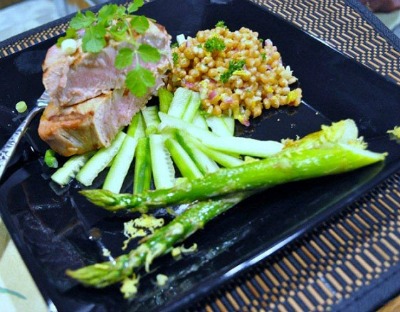 Grilled Ahi Tuna with Oriental Sauce:
Grilled Ahi Tuna with Oriental Sauce Recipe
Ingredients:
2 teaspoons cream-style Horseradish
1/3 cup low-sodium soy sauce
1/4 teaspoon Chile Garlic Sauce
1 tablespoon dry sherry
1 teaspoon toasted sesame oil
2 teaspoons minced fresh ginger
2 Ahi Tuna steaks, each about 1 inch thick
Coarse salt and freshly-ground black pepper to taste
1 English cucumber, peeled, seeded and cut into matchsticks
3 green onions (garnish), thinly sliced
Fresh cilantro sprigs (garnish), leaves removed and set aside
Instructions:
To prepare Oriental Sauce: In a medium-size bowl, combine horseradish, soy sauce, chile garlic sauce, sherry, sesame oil, and ginger; whisk until well combined. Taste and adjust seasonings, if needed, to your taste. Set aside.
Preheat barbecue grill (oil hot grill to help prevent sticking).
Salt and pepper tuna steaks to taste. Brush tuna steaks with a little of the prepared oriental sauce.
Place the marinated tuna steak over direct heat, and cook only until grill marks form, approximately 3 minutes per side. As soon as you see grill marks on the tuna, turn the tuna filet over and move the tuna to indirect heat. Do not overcook the tuna or the meat will become dry and lose its flavor. It will have a white ring around the edges, but the center will be very pink when done. Remove from grill.
Place cucumber sticks in the center of each serving plate, top with cooked tuna steak. Drizzle Oriental Sauce around the dish. Garnish with green onions and cilantro leaves
Makes 2 servings.
https://whatscookingamerica.net/KarenCalanchini/GrilledAhiTuna-OrientalSauce.htm
Comments and Reviews