Orange and Radish Salad is my adaptation of a salad recipe I found on an Egyptian tourist website.  This salad has a complexity of flavors, freshness from the oranges, and a bit of heat from the warm spices and radishes. This is a refreshing low-calorie salad that is sure to please everyone you serve it to.  This salad makes a wonderful compliment to Grilled Halibut.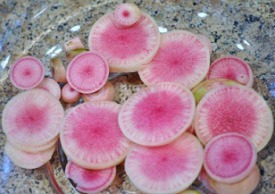 I substituted the beautiful watermelon radishes in this salad.  The watermelon radish is a winter radish that grows particularly well when the weather gets cooler.  It has many alternate names, such as Beauty Heart, Rose Heart, Shinrimei, Misato, Asian Red Meat, or Xin Li Mei radish.  It is an heirloom variety of the Chinese daikon.  I grew mine in the Spring, and they have a little heat to them.  It is almost white on the outside with a beautiful pink interior.  The watermelon radishes will wow you!
When buying them, choose radishes that feel heavy for their size. They should be firm and without blemishes.  Store them in a plastic bag or container in the crisper drawer of your refrigerator for up to a few weeks.
This very delicious Orange and Radish Salad recipe, comments, and photos were shared with my by Karen Calanchini, Food Stylist and Photographer, of Redding, CA.
More wonderful Salad and Salad Dressing Recipes.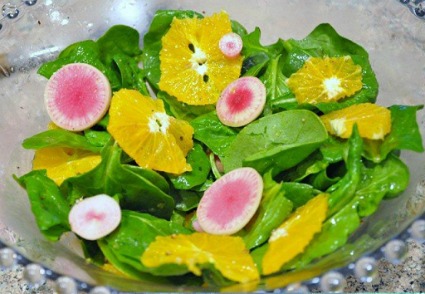 Orange and Radish Salad with Cinnamon Vinaigrette Recipe:
Orange and Radish Salad with Cinnamon Vinaigrette Recipe
Ingredients:
Cinnamon Vinaigrette (see recipe below)
3 seedless oranges, peeled and thinly sliced
3 to 4 Watermelon Radishes (or use regular radishes), thinly sliced
1/2 of a 6-ounce package of organic baby spinach leaves
1/8 cup sliced almonds, lightly toasted
Instructions:
Prepare Cinnamon Vinaigrette; set aside until ready to serve. Mixing the vinaigrette ahead of time allows the flavors to blend together.
In a large bowl, combine orange slices, radish slices, and spinach leaves.
Just before serving, toss salad with just enough Cinnamon Vinaigrette to lightly coat salad, taste and additional vinaigrette, if desired. Sprinkle with sliced almonds.
Makes 2 to 3 servings.
Cinnamon Vinaigrette:
1/4 cup of a good fruity olive oil
Juice from 1 fresh-squeezed lemon
2 tablespoons fresh-squeezed orange juice
1 teaspoon granulated sugar
1/2 teaspoon Chinese Cassia Cinnamon (or regular cinnamon)*
1/4 teaspoon ground cumin
1/8 teaspoon Aleppo pepper flakes (or use regular red pepper flakes)**
1/8 teaspoon coarse salt or sea salt
* Chinese Cassia Cinnamon is a very popular cinnamon. It is strong, sweet, and spicy.
** Aleppo Pepper - A Turkish crushed chili has an ancho-like flavor with a little more heat and tartness (medium level of heat, sweet, fruity, complex with hints of Cumin). Also Known as Halaby Pepper. If you can not find this pepper, replace with the regular crushed red peppers.

In a small bowl, blend together the olive oil, lemon juice, orange juice, sugar, cinnamon, cumin, pepper flakes, and salt; mix well.
Set aside until ready to serve.
You Might Also Like:

Mixed Lettuce Salad with Oranges and Sweet Chili Vinaigrette
A beautiful presentation, cool, refreshing, and just perfect for a light lunch. The vinaigrette is an unusual combination of Thai flavors mixed with Dijon mustard. The flavors come together so well. This is an adaptation of her salad with a couple of twists!

Orange and Avocado Salad
This salad is yummy, especially the dressing. I often use Hazelnut oil, as well. In winter, ruby grapefruit is nice. We have some great tangelos out right now and that is what I used last night. I cook what is in season...mostly!
https://whatscookingamerica.net/KarenCalanchini/Orange_RadishSalad.htm
Comments and Reviews