Pomegranate Braised Lamb Shanks are very delicious with many layers of flavor.  Thet makes a beautiful presentation for your guests as well.  Although the recipe calls for Merlot wine, I used Zinfandel wine because that is what we were drinking that night with dinner.  Any full-bodied red wine would work well.  I also used Pomegranate molasses because it is what I had on hand.  I served these braised lamb shanks with the Potatoes Slow-Cooked in Beef Stock (see recipe below).
This wonderful Lamb Shanks recipe, comments, and photos were shared with my by Karen Calanchini, Food Stylist and Photographer, of Redding, CA.  Karen slightly adapted this recipe from Williams-Sonoma.
Pomegranate Braised Lamb Shanks Recipe:
Pomegranate Merlot Braised Lamb Shanks Recipe
Ingredients:
4 meaty lamb shanks (about 4 1/2 pounds total), trimmed of fat
Coarse salt or sea salt and freshly-ground pepper
3 tablespoons olive oil, divided
1 large yellow onion, peeled and chopped
1 tablespoon mined garlic (additional garlic may be added)
1 tablespoon tomato paste
1 teaspoon chopped fresh thyme
1 teaspoon ground cinnamon
1 large bay leaf
1 teaspoon ground ground cumin
1 teaspoon allspice
1 cup Merlot wine (or your favorite red wine)*
1 cup pomegranate juice
2 tablespoons honey
1 cup chicken stock or broth (homemade or purchased)**
6 carrots, peeled and halved lengthwise
1 teaspoon red wine vinegar
1/3 cup pomegranate seeds
1 tablespoon chopped fresh, flat-leaf parsley
Potatoes Slow Cooked in Beef Stock (see recipe below)
* Cooking with Wine - Learn how to cook with wine.
** Learn how easy it is to make Homemade Chicken Stock - Basic Chicken Stock.
Instructions:
Salt and pepper both sides of the lamb shanks; set aside.
In a large frying over medium-high heat, warm 2 tablespoons olive oil. Sear the seasoned lamb shanks, two (2) at a time, until the shanks are deeply browned. Repeat with the remaining two (2) lamb shanks. Transfer the browned lamb shanks to a large slow-cooker (crock pot).
Add additional olive oil (if needed) to the frying pan. Add the chopped onions and sauté, stirring occasionally, until the onions are soft. Add garlic, tomato paste, thyme, cinnamon, and bay leaf and cook, stirring constantly, for 1 minute. Add the wine and pomegranate juice; let simmer for an additional 5 minutes. Add the honey, chicken stock or broth, salt, and pepper. Stir to combine and then pour the mixture into the slow cooker. Cover and cook on high for 3 hours.
While the lamb shanks are cooking, prepare the Potatoes Slow-Cooked in Beef Stock (see recipe below).
After 3 hours, add the carrots and continue cooking until the lamb shanks are tender, approximately 1 hour or until meat is meltingly tender. To test, insert a knife or skewer into a thick section (there should be no resistance, juices should run clear, and the meat almost falling off the bones). Transfer the cooked lamb shanks and carrots to a large serving platter; set aside.
Pour the sauce into a saucepan an skim off the excess fat. Place over high heat and boil the sauce until thickened, approximately 10 minutes. Stir in the wine vinegar.
Pour the prepared sauce over the lamb shanks and sprinkle with parsley and pomegranate seeds before serving. Serve with the Potatoes Slow-Cooked in Beef Stock (see recipe below).
Makes 4 servings.
Potatoes Slow-Cooked in Beef Stock:

I love this simple and easy-to-make potato dish cooked with this unusual method. This dish is a great match for the Pomegranate Merlot Braised Lamb Shanks which have a lot of flavors going on.

Ingredients:
2 tablespoons butter
1/2 tablespoon extra-virgin olive oil
2 medium-size onions, peeled, cut in half, and sliced thin
1 1/2 pounds of Yukon Gold or Russet Potatoes, sliced thin (use a Mandolin, if you have one)
Coarse salt and freshly-ground black pepper
Fresh thyme leaves, to taste
1 cup (or more) homemade or store bought Beef Stock
Preparation:
Preheat oven to 300 degrees F. Butter a casserole dish.
In a large frying pan over medium to medium-low heat, melt the butter with the olive oil. Add the sliced onions and gently fry the until soft and lightly golden, approximately 20 minutes. Remove from heat and spread 1/2 the sauteed onion in the prepared casserole dish.
Add a layer of sliced potatoes and season with salt, pepper, and thyme leaves. Add the rest of the onions, potatoes, salt, pepper, and thyme leave. Pour the beef stock over the top.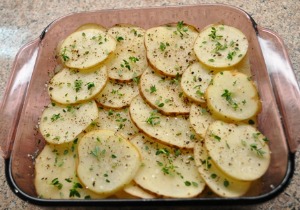 Cover the dish tightly with aluminum foil and bake until all the liquid has been absorbed and potatoes are tender when pierced with a fork, approximately 2 to 3 hours. Remove the aluminum foil for the last 1 hours of cooking if you like a crisp top. Remove from oven and let stand 10 minutes.
Before serving, sprinkle additional fresh thyme leaves over the top.
Makes 4 servings.
https://whatscookingamerica.net/KarenCalanchini/PomegranateBraisedLambShanks.htm
Comments and Reviews