Roasted Rainbow Potatoes are a delight to behold as they come out of the oven.  Watch as your guest watch and listen to the comments you will get.  After roasting, the colors of the potatoes just seem to pop – they are beautiful, healthy, and fun!
Every potato type has its own flavor and cooking time. By cutting them into bite-size pieces, they seem to pretty much cook the same. I like to use some purple, red, and gold potatoes plus some beautiful red and orange bell peppers to achieve this fantastic Roasted Rainbow Potatoes presentation,
This delicious Roasted Rainbow Potatoes recipe, comments, and photos were shared with me by Karen Calanchini, Food Stylist and Photographer, of Redding, CA.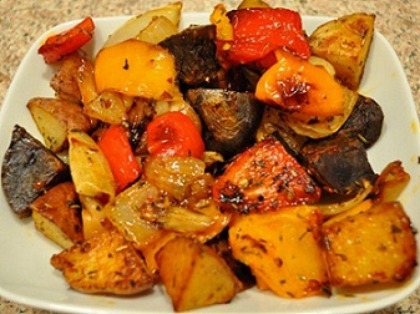 Roasted Rainbow Potatoes Recipe:
Roasted Rainbow Potatoes Recipe
Ingredients:
3 each of purple, red, and either Yukon Gold or Russet potatoes, cut into bite-size chunks
1 medium yellow onion, cut in wedges
1 medium red onion, cut in wedges
1 large red bell pepper, stemmed, seeded and cut into bite-size pieces
1 large orange bell pepper, stemmed, seeded and cut into bite-size pieces
8 to 10 large garlic cloves, parchment-like skin removed
1/8 cup extra-virgin olive oil
Coarse or sea salt and freshly-ground black pepper
Fresh thyme leaves, rubbed between your palms
Good-quality Balsamic Vinegar or balsamic reduction*
* Learn how to make a balsamic reduction or Faux Aged Balsamic Vinegar.
Instructions:
In a large bowl, place the potatoes, onions, bell peppers, and garlic cloves. Toss the vegetables with the olive oil, salt, pepper, and thyme. Cover and let sit for approximately 3 to 4 hours, giving them a toss now and then and adding more oil oil if needed. You want a light coating on all the vegetables.
Preheat oven to 375 degrees F. Line a rimmed baking sheet with aluminum foil.
Bake approximately 45 minutes, turning occasionally. You want the vegetables to begin to caramelize their sugars. The edges will start to turn brown.
When the vegetables are finished cooking, remove from the oven. Drizzle with a little balsamic vinegar or balsamic reduction over the top of all the vegetables.
Place on a serving dish and serve.
Makes 6 to 8 servings as a side dish.
https://whatscookingamerica.net/KarenCalanchini/RoastedRainborPotatoes.htm
Comments and Reviews