I am addicted to this Summer Vegetable Soup with Pasta.  This soup is very rich and complex, with the different types of tomatoes and all the colorful vegetables. This recipe takes advantage of all the wonderful summer vegetables in the garden, and also lets you adjust for your favorite vegetables.  I like making this in the summer when I can use a large fresh tomato right out of my garden and the beautiful summer squashes.
This delicious Summer Vegetable Soup recipe, comments, and photos was shared with my by Karen Calanchini, Food Stylist and Photographer, of Redding, CA.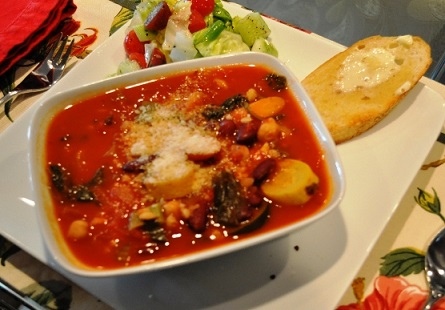 Summer Vegetable Soup with Pasta Recipe:
Summer Vegetable Soup with Pasta Recipe
Ingredients:
3 tablespoons olive oil
1 large yellow onion, peeled and medium dice
3 ribs celery with leaves, sliced
6 carrots, sliced (I use young carrots and do not peel)
5 fresh garlic cloves, minced
1 can (16-ounces) of diced tomatoes
1 can (28-ounces) crushed tomatoes
1 large fresh garden tomato*
12 tablespoons tomato paste (I use the tube type)
5 cups purchased or homemade chicken stock**
4 cups of a good tomato juice
1 can (16-ounces) garbanzo beans, drained
1 can (16-ounces) red kidney beans, drained and rinsed
2 bay leaves
1/2 teaspoon dried oregano
1/2 teaspoon fresh thyme leaves
1/2 teaspoon smoked Spanish paprika
1/4 teaspoon red pepper flakes
2 hefty slices of rind from Parmesan Reggiano (optional)***
1 medium zucchini squash, sliced
1 medium yellow summer squash, any type
1/3 cup of any type of tiny pasta or soup barley
A handful of fresh Italian Flat beans or green beans, cut in half or thirds if large
Fresh basil leaves, chiffonade, to taste
2 teaspoons good-quality Balsamic Vinegar
Sea salt and freshly-ground black pepper to taste
Several handfuls of baby spinach
* Submerge the tomato in hot water for about 5 minutes, and then remove skin, peel, and then chop into chunks.
** Check out Chicken Stock - Basic Chicken Stock to learn how easy it is to make your own homemade chicken stock.
*** When you purchase Parmigiano-Reggiano cheese, cut a chunk you need and save the rinds. The rinds can be used to add flavor to soups, stews, and pasta sauces. I store the rinds in a freezer bag and just freeze.
Instructions:
Heat a 6- to 7-quart Dutch oven or soup po over medium-high heat, add olive oil. Add the prepared onion, celery, and carrots, sauteeing about 6 to 8 minutes, stirring now and then.
Add garlic, and stir until it becomes fragrant. Add diced tomatoes, crushed tomatoes, fresh tomato, tomato paste, chicken stock, tomato juice, garbanzo beans, and kidney beans, stir well.
Add bay leaves, oregano, thyme leaves, smoked Spanish paprika, and red pepper flakes. Add the optional Parmesan rinds at this time if you have them. Bring just to a boil, reduce heat to medium and simmer for 30 minutes, stirring several times.
Add zucchini squash, summer squash and pasta or barley and green beans. Return to boil over medium high heat. Reduce heat to medium and simmer an additional 15 minutes. Then add basil, balsamic vinegar, salt and pepper to taste, and the baby spinach. Cook until heated through and veggies are cooked to your liking.

Taste and adjust any seasonings to you liking. Remove the bay leaves and parmesan rinds prior to serving.
Note: If soup is thicker than you would like, add more chicken stock after the addition of the last batch of vegetables.
Makes 6 to 8 servings.

https://whatscookingamerica.net/KarenCalanchini/Summer-Vegetable-Pasta-Soup.htm
Comments and Reviews