Pumpkin Custard Recipe
Pumpkin custard plated in individual servings makes a delightful Fall or holiday dessert to serve to guests for an afternoon tea gathering or luncheon.  It is also fun to top the pumpkin custard with a pie crust ornament in festive holiday shapes.
In the photo shown below, our afternoon tea expert, Ellen Easton, has beautifully plated the pumpkin custard topped with a gingerbread man pie crust ornament to serve her guests.
Recipe and Photos by Ellen Easton 2020© All Rights Reserved
Learn about the history of Pumpkin Pie.   Check out more of Ellen Easton's Tea Travels™ articles and recipes.
Pumpkin Custard Recipe
Ingredients
1/4

cup

granulated sugar

1/2

teaspoon

salt

1

teaspoon

ground cinnamon

1/4

teaspoon

ground ginger

1/4

teaspoon

ground cloves

1/4

teaspoon

ground nutmeg

2

large

eggs

1

(15-ounce can)

pure pumpkin puree

1

(12-ounce can)

evaporated milk

1

teaspoon

Madagascar bourbon pure vanilla extract*

* Can use regular pure vanilla extract
Instructions
Preheat oven to 425 degrees Fahrenheit.

In a medium-sized bowl, mix all the dry ingredients together comprising of sugar, salt, cinnamon, ginger, cloves, and nutmeg.

In a separate large bowl, beat the two eggs until combined, then mix in the pumpkin puree. Add the dry ingredients, and stir until combined. Next, add the vanilla extract and stir. Slowly pour in the evaporated milk while stirring until everything is mixed together.

Pour the pumpkin custard batter into eight 1/2-cup sized ramekins. Place the ramekins on a cookie sheet and bake for 15 minutes at 425 degrees F. Next, lower the oven temperature to 350 degrees F. and bake for an additional 10 to 15 minutes longer until a toothpick inserted in the center of the baked custard comes out clean.

Remove the individual custards from the oven and let cool down. Then place the custard ramekins in the refrigerator and let cool for at least 2 hours.

When ready to serve, remove the ramekins from the refrigerator, gently loosen the sides of the custard from the ramekins, and turn over onto individual plates for serving.

Top individual pumpkin custards with whipped creme, ice cream, or baked pie crust ornaments.

To bake a pie crust ornament: Roll out pie crust dough and use a cookie cutter to cut the desired shape. Place the dough shapes on a cookie sheet, and brush with beaten egg and lightly sprinkle with cinnamon or nutmeg on top. Bake at 350 degrees F. until golden brown (time will vary on the size and thickness of the dough). Remove from oven and cool down.

Serve topped with the individual pumpkin custard.



---
TEA TRAVELS™ – Wishing You Happy TEA TRAVELS!™  Tea is the luxury everyone can afford!™ and Good $ense for $uccess are the trademarked property of Ellen Easton/ RED WAGON PRESS
Ellen Easton, author of Afternoon Tea~Tips, Terms and Traditions (RED WAGON PRESS), a lifestyle and etiquette industry leader, keynote speaker and product spokesperson, is a hospitality, design, and retail consultant whose clients have included The Waldorf=Astoria, Plaza Hotels, and Bergdorf Goodman.  Easton's family traces their tea roots to the early 1800s, when ancestors first introduced tea plants from India and China to the Colony of Ceylon, thus building one of the largest and best-cultivated tea estates on the island.

Purchase Ellen Easton's Tea Books:
Each 5 x 7 book is $20 postpaid Continental USA only.  Wholesale and fundraising accounts welcome.  Include name, address, zip code, and phone number for shipping.  All Sales Final. Check or MO order payable to:  RED WAGON PRESS, 45 East 89th Street, STE. 20A, New York, NY 10128-1256.  All inquiries to teatravels@aol.com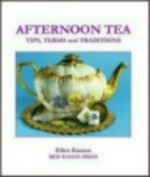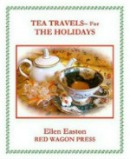 AFTERNOON TEA…TIPS, TERMS and TRADITIONS
72 pages of how to's, 27 photos, history, etiquette and FAQ about afternoon tea, serving styles and more.
TEA TRAVELS™ – FOR THE HOLIDAYS
64 pages, 21 color photos. A complete holiday menu includes 25 easy to prepare recipes; theme teas, decorating & gift ideas; invitation template and secret sources.
Comments and Reviews