Classic Lemon Meringue Pie is exceptional and is absolutely beautiful to behold!  The lemon flavor is a sweet and tangy slice of heaven.  
In this perfect Lemon Meringue Pie, a tart lemon filling is piled high with fluffy meringue for a dessert that is impossible to resist.  This is the perfect recipe and you will ever need – It is easy to make and so good!
Many families enjoy serving this pie as one of the desserts on their Thanksgiving table.  This Classic Lemon Meringue Pie recipe is exceptional as it tastes like a sweet and tangy slice of heaven.  We also provide tips on how to make perfect meringue.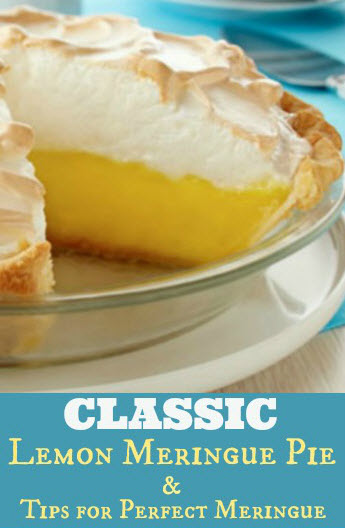 Check out more great Pie Recipes.
Classic Lemon Meringue Pie Recipe:
Classic Lemon Meringue Pie Recipe
Ingredients:
Pastry for 9-inch one crust pie
Meringue Topping (see recipe below)
2 tablespoons graham cracker crumbs (optional)
1 cup granulated sugar
1/4 cup cornstarch
1/8 teaspoon salt
1 1/2 cups water
5 large eggs (yolks and whites separated into individual bowls), yolks slightly beaten*
1 tablespoon grated lemon zest
1/2 cup fresh-squeezed lemon juice (approximately 2 to 3 lemons)
2 tablespoons butter
* Reserve egg whites for the Meringue Topping recipe.
Instructions:
Preheat oven to 400 degrees F. Adjust oven rack to center of oven.
Prepare pie pastry; dust lightly with flour, wrap in plastic wrap, and refrigerate 30 minutes before rolling.
Sprinkle work area with 2 tablespoons graham cracker crumbs or some flour. Roll refrigerated pastry with floured rolling pin, sprinkling additional crumbs underneath and on top to heavily coat dough. Roll pastry 2 inches larger than an inverted 9-inch pie pan. Fold pastry into quarter-folds and ease into pan, pressing firmly against bottom and side; flute edges. Prick crust at 1/2-inch intervals before baking. Bake 15 minutes; reduce oven to 350 degrees F. and bake another 10 minutes or until crust is golden brown. Remove from oven and cool on a wire rack.
Reduce oven to 325 degrees F.


Lemon Curd Filling: In a large saucepan over medium heat, whisk together the sugar, cornstarch, salt, and water; simmer until translucent and just begins to thicken, approximately 1 minute. Remove from heat.
Slowly and gradually, whisk in egg yolks. Return egg mixture to low heat and cook, stirring constantly, for 1 more minute. Remove from heat and gently stir in lemon zest, lemon juice, and butter until well combined.
A trick to make sure the lemon curd is ready, is to use a digital thermometer and reach an Internal Temperature of 170 degrees F.
Pour the prepared lemon curd filling into a baked and cooled pie shell.
If you need to let the Lemon Curd Filling sit before using, cover with plastic wrap to keep it hot, as you want to add hot filling to the cooled pie crust.
Prepare Meringue Topping; set aside.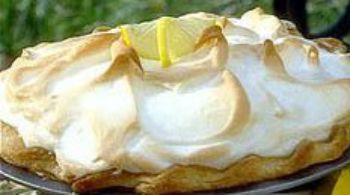 Meringue Topping: Spread prepared Meringue Topping over hot pie filling, being careful to spread the meringue to the edges of the pie pasty to prevent shrinkage during baking.
Baking: Bake approximately 20 minutes or until meringue is golden brown. NOTE: If meringue start to brown too quickly, covering top loosely with foil after the first 5 minutes. Remove from oven and cool completely, approximately 3 hours, on a wire rack before cutting and serving. To cut baked meringue into serving pieces, use a knife dipped in cold water.
The pie may be refrigerated up to one day, but this pie is best served the day it is made.
Makes 8 servings.
Meringue Topping Recipe:
Check out my hints and tips on making a Perfect Meringue.
1 tablespoon cornstarch
1/3 cup water
5 large egg whites, room temperature*
1/2 teaspoon pure vanilla extract
1/4 teaspoon cream of tartar
1/2 cup granulated sugar
* Use fresh eggs to make meringue, and these fresh eggs should be at room temperature. Old eggs simply will not produce the fluffy volume required by meringue.
In a small saucepan over low heat, combine cornstarch and water; bring to simmer, stirring until mixture thickens and turns translucent. Remove from heat and let cool.
In a large bowl of your electric mixer, beat egg whites and vanilla extract until frothy. In a small bowl, combine cream of tartar and sugar; add to egg whites, 1 tablespoon at a time, beating until soft peaks form, approximately 2 minutes. Slowly add cornstarch mixture, 1 tablespoon at a time; continue to beat until stiff peaks form.
https://whatscookingamerica.net/LemonMeringuePie.htm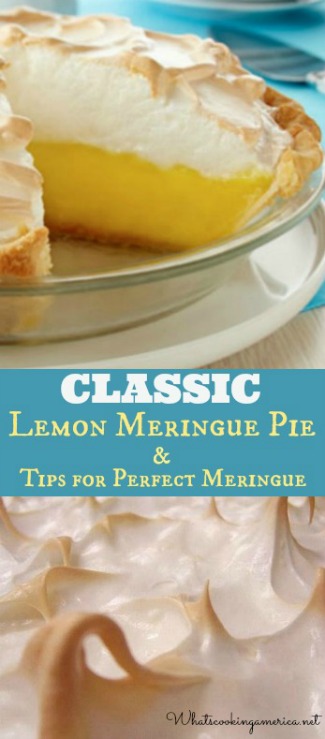 Comments and Reviews