Best Cheesecake Recipe Collection
Sweet Cheesecake Recipes –  Savory Cheesecake Recipes
Best cheesecake recipe collection that is trusted, tested, and easy-to-male delicious cheesecake recipes.  Learn how to make beautiful and velvety sweet cheesecakes to celebrate any occasion. The classic cheese cake is a favorite also know as the plain cheesecake.  Another favorite is the savory cheesecake great for appetizers.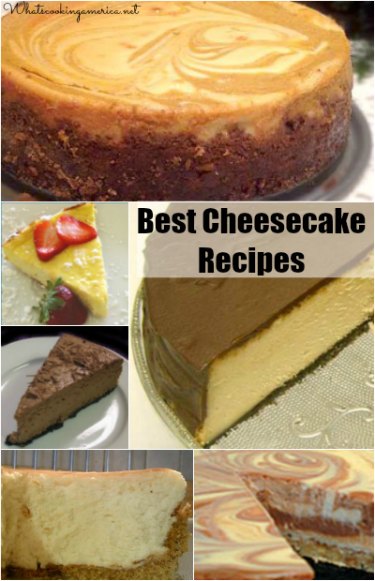 Sweet or Dessert Cheesecakes:
Chocolate Fudge Cheesecake
Anything chocolate  makes it on my list of favorites, and this is one of those.
Chocolate Hazelnut Swirl Cheesecake
This cheesecake is for serious chocophiles.  Imagine the hazelnut spread on a bed of crunchy nuts and a piping hot cup of coffee – it's a sweet temptation!
Chocolate Peanut Butter Cheesecake
Peanut butter and chocolate!  This delightful combination of flavors will remind you of one of your favorite childhood candy bars.
Italian Ricotta Cheesecake
This recipe can also be called a "Ricotta Pie."  No matter which name you prefer to use, it still tastes amazing and will be sure to impress your friends and family. This type of cheesecake is considered an Italian style cheesecake because the use of ricotta cheese is of Italian tradition.
Perfectly Plain Cheesecake (Includes photo tutorial)
This is just a basic cheesecake recipe, but it can be used as the base for many other varieties.  Change the crust, add some chocolate, or just get creative!  Have fun developing other ways to make it; once you have made one that comes out like this the possibilities are endless!
Pumpkin Cheesecake
Never again make a pumpkin pie for the holiday.  This cheesecake is absolutely wonderful.  Let your family be the judge!   I usually make this cheesecake ahead of time and freeze it.  See How To Freeze Cheesecake.
Pumpkin Swirl Gingersnap Cheesecake
Here is a fun twist for your pumpkin cheesecake.  Blending gingersnap cookie crumbs into your crust will enhance the pumpkin and you will experience the rich warmth of the two flavors dancing on your taste buds.  The delicate swirling of the pumpkin in the cheesecake makes a beautifully festive holiday dessert.
Salted Caramel Cheesecake
This recipe is by Michael Moorhouse and appeared in the October, 2004 issue of Food and Wine magazine.  I slightly adapted this recipe.  This dessert will be one of your favorites from now on!
Sweet Potato Cheesecake
A wonderful cheesecake with a light sweet potato taste.
Vanilla Cheesecakes with Lemon Curd
This wonderful recipe and photo has been provided by Diana Baker Woodall.
Savory or Appetizer Cheesecakes:
Individual Goat Cheese Cheesecakes
Comments and Reviews