The Tarragon Vinaigrette used in this Mixed Green Salad with Tarragon Vinaigrette recipe is absolutely fantastic! I have always loved the flavor of tarragon and was excited to make this salad. Together this outstanding dressing and the combination of different fresh greens make a delightful salad. Give it a try!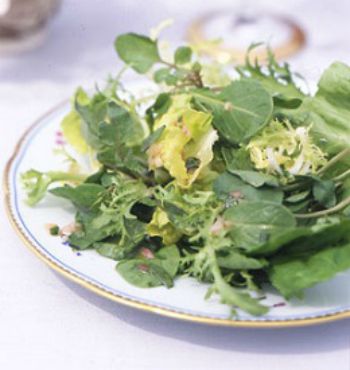 This delightful salad recipe and dinner menu were generously shared with my by Linda Sandberg of Newberg, OR. Linda belongs to a Gourmet Dinner Group that delights in making wonderful foods that they share together. Please check out An Evening for Valentines which includes this recipe.
More delicious Salad and Salad Dressing Recipes.
Mixed Green Salad with Tarragon Vinaigrette Recipe:
Mixed Green Salad with Tarragon Vinaigrette Recipe
Ingredients:
4 teaspoon Sherry Vinegar
1 tablespoon minced shallot
1/2 teaspoon Dijon mustard
1/2 teaspoon salt
1/4 teaspoon black pepper
1/4 cup extra-virgin olive oil
2 teaspoons finely-chopped fresh tarragon
1/2 pound frisee (French curly endive), torn into bite-size pieces
1 head (1 pound) Boston lettuce, torn into bite-size pieces
1 bunch (1/2 pound) arugula, coarse stems discarded
1 bunch (1/2 pound) watercress, coarse stems discarded
Instructions:
In a small bowl, whisk together the vinegar, shallot, mustard, salt, and pepper. Then add the olive oil in a slow stream, whisking until emulsified. Whisk in tarragon.
In a large salad bowl, toss the frisee, Boston lettuce, arugula, and watercress and then season with salt and pepper.
NOTE: Greens can be washed, trimmed, and torn one (1) day ahead and chilled in a sealed plastic bag lined with paper towels.

DO NOT OVERDRESS YOUR SALADS - Too much salad dressing will weight down the salad ingredients and mask their flavors. The dressing's role is to highlight not to overpower the salad ingredients. A general rule is 1/4 cup of dressing for 6 cups of greens. As soon as your salad is mixed, taste a leaf to see if there is sufficient dressing. If not, drizzle some more over the salad, a tablespoon at a time; toss and taste again.
Makes 8 servings.
https://whatscookingamerica.net/LindaSandberg/Salads/MixedGreens-TarragonVingaigrette.htm
Sources: Recipe from Gourmet Magazine, September 2003 and the Epicurious.com website. Photo by Miki Duisterhof.
Comments and Reviews