Vegetable Gorgonzola Lasagna is my version of a recipe from a "foodie" friend of mine, Bonnie of Wisconsin. It is so creamy good – my family loves this lasagna. This is also an excellent vegetarian meal.
This lasagna is a definite winner – it is so good!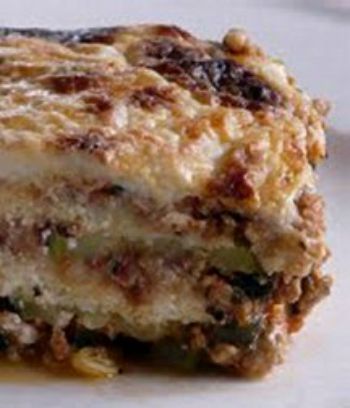 Pasta Hints and Tips and more delicious Pasta Recipes. Also check out my Squash Recipes.
Vegetable Gorgonzola Lasagna Recipe:
Vegetable Gorgonzola Lasagna Recipe
Ingredients:
6 lasagna noodles*
Gorgonzola Sauce (see recipe below)
Zucchini squash, sliced approximately 1/3"-inch thick**
3/4 pound mushrooms, cut into chunks
1 large or 2 medium-size tomatoes, peeled, seeded and sliced approximately 1/3-inch thick
Fresh basil leaves, coarsely chopped or torn into strips
8 ounces fresh mozzarella cheese, shredded
1 cup freshly-grated Parmesan Cheese (Parmigiano-Reggiano) (for topping)
* If using the no-boil noodles, boil them for 2 minutes, otherwise they do not get done enough. No-boil lasagna noodles are so much easier to use as they are much thinner than regular lasagna noodles, and therefore absorb enough liquid from the sauce to "cook" them completely without parboiling. Purchase No-Boil Lasagna Pasta at What's Cooking America's Cooking Store.
** Butternut squash is an excellent substituted for the zucchini squash.
Instructions:
Preheat oven to 375 degrees F.
Cook lasagna noodles according to package directions. Drain and set each noodle flat on paper towels. Do not stack lasagna noodles (they will stick to each other and you cannot separate them).
Use a small baking dish (approximately 9" x 7" x 2 1/2") or lasagna dish, smear a little Gorgonzola Sauce on the bottom of the baking dish. Layer as follows:
First Layer: Lasagna noodles, zucchini or butternut squash, basil, mozzarella cheese, and Gorgonzola Sauce.
Second Layer: Lasagna noodles, mushrooms, basil, mozzarella cheese, and Gorgonzola Sauce.
Third Layer: Lasagna noodles, sliced tomatoes, basil, and Gorgonzola Sauce; top with parmesan cheese.
Cover dish tightly with aluminum foil (tenting slightly to prevent foil from touching top layer).
Bake in middle of oven for 40 minutes. Remove aluminum foil and bake an additional 10 minutes or until top is bubbling. Remove from oven and let stand for 5 minutes before cutting and serving.
Makes 2 servings.

Gorgonzola Sauce Recipe:
1 tablespoon butter
1 tablespoon all-purpose flour
2 to 3 cloves garlic, minced
3/4 cup half and half cream
1/4 to 1/2 cup Gorgonzola Cheese
Salt and pepper to taste
In a large saucepan over medium heat, melt butter. Add flour and blend thoroughly. When perfectly smooth and free from lumps (but not in the least browned), add garlic. Gradually add half and half; reduce heat to low and cook, stirring constantly, until sauce starts to boil.
Add gorgonzola cheese (it is difficult to gauge exactly how much to use because the cheese varies in ripeness - use just enough so you can smell the cheese) and stir until well blended. Add salt and pepper to taste. Remove from heat.
https://whatscookingamerica.net/Pasta_Rice_Main/GorgLasagna.htm
Source: I believe this was originally from Bon Appetit magazine.
Comments and Reviews