Fettuccine Piccata Pasta will pleasantly surprise you with it's wonderful taste.  This vegetarian dish has a great sauce with capers that is easy-to-make, very light and tasty.  This pasta dish is definitely good enough to impress your company and please every ones palette.  My grandchildren always want me to make Fettuccine Piccata Pasta when they visit.  It is my very favorite pasta dish to make and serve.  It is a winner!
I have used this recipe on several television shows on my book tours.  This pasta dish smells so great that the studio crew comes running for a taste!   If you like meat, you can use some chicken or shrimp in the recipe to jazz it up.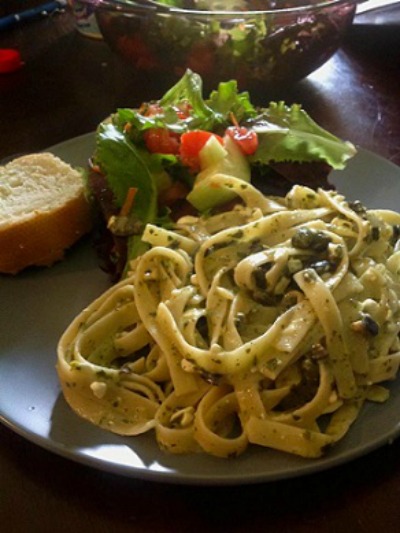 fFettuccine Piccata Pasta Recipe
Ingredients:
1 (16-ounce) package uncooked fettuccine pasta
1/3 cup extra-virgin olive oil
1/4 cup capers, drained
1/4 cup white wine
1/2 cup prepared store-bought or homemade Basil Pesto*
2 cloves garlic, minced
1/2 cup sliced black olives
1 tablespoon fresh-squeezed lemon juice
1/2 cup cottage cheese
Coarse salt and freshly-ground black pepper to taste
Freshly-grated parmesan Cheese (Parmigiano-Reggiano)
* Learn how easy it is to make homemade Basil Pesto.
Instructions:
Cook pasta according to package directions: drain and return to pan to keep warm. Learn How To Cook Pasta Properly.
In a small saucepan over medium-high heat, heat olive oil, capers, white wine, basil pesto, and garlic approximately 1 minute or until aromatic; stir in black olives, lemon juice, and the cottage cheese.
Remove from heat and pour over prepared pasta; toss to coat thoroughly. Season with salt and pepper to taste.
Transfer onto individual serving plates and garnish with freshly-grated parmesan cheese.
Makes 4 to 6 servings.
https://whatscookingamerica.net/Pasta_Rice_Main/fettuccinepicc.htm
Comments and Reviews