It is said that this Spaghetti alla Puttana is a quick pasta preparation made it popular as a fast snack between clients, because in Italian, a puttana is a lady of the night.  This pasta is also know as whore's pasta.   The name could also come because this pasta is so delicious that it is downright sinful! What do you think?
Today, this Spaghetti alla Puttanesca pasta dish is found throughout Italy, although it is particularly popular in Rome.
Check out Linda's Pasta Hints and Tips and Pasta, Rice, and Main Dish Recipes.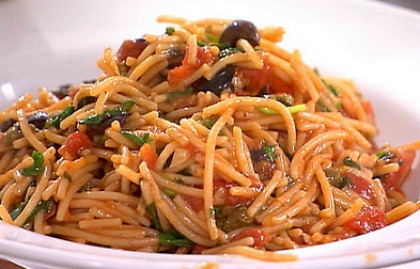 Spaghetti alla Puttanesca Recipe:
Spaghetti Alla Puttanesca
Ingredients:
3 tablespoons extra-virgin olive oil
1 large onion, chopped
1 green bell pepper, cored, seeded and chopped
2 cloves garlic, minced
1 (28-ounce) can crushed or diced tomatoes
1 (2-ounce) can anchovy fillets, drained and chopped*
16 green or black olives, sliced
1 tablespoon capers, rinsed and drained**
1/4 cup chopped fresh basil leaves or 2 teaspoons dried basil
1/4 teaspoon dried red pepper flakes
Coarse salt and freshly-ground black pepper to taste
1 (16-ounce) package spaghetti or linguine pasta
* Use only good-quality Spanish or Portuguese anchovies. Anchovy paste may be substituted (approximately two inches squeezed from the tube will provide the equivalent taste of one anchovy fillet). More anchovy fillets may be added according to your personal taste. To purchase Anchovies and Anchovy Paste, check out What's Cooking America's Kitchen Store.
** Capers are the unopened green flower buds of the Capparis spinosa (Capparidaceae - caper family - closely related to the cabbage family), a wild and cultivated bush that is grown mainly in Mediterranean countries and also in California. Capers can range in size from that of a tiny peppercorn (the petite variety from southern France, considered the finest) to some as large as the tip of your little finger (from Italy). Capers generally come in brine but can also be found salted and sold in bulk. Either way, rinse before using to flush away as much salt as possibl
Instructions:
In a large frying pan over medium-high heat, heat the olive oil until hot. Add the onion and green pepper; saute for 3 to 5 minutes or until soft. Add garlic and saute another 30 seconds. Add the tomatoes and anchovies; simmer an additional 10 minutes. Stir in olives, capers, basil, red pepper flakes, pepper, and salt; simmer for an additional 20 minutes.
While the sauce is cooking, prepare the pasta according to package directions; drain and return to pan to keep warm. Learn How To Cook Pasta Properly.
Pour the prepared sauce over the cooked pasta, tossing to coat. Transfer into individual serving bowls.
Makes 4 to 6 servings.
https://whatscookingamerica.net/Pasta_Rice_Main/spaghettiPutt.htm
Source:  Photo from the Food Network.
Comments and Reviews